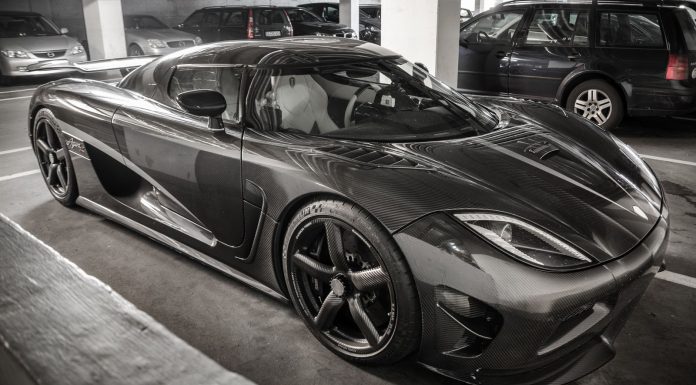 The Koenigsegg Agera R and Porsche 918 Spyder are two of the fastest and rarest supercars on the market at the moment. As a result, seeing either one anywhere outside their respective factories is a sight to behold. Italian Car King Photography has taken it one step further and recently managed to snap a carbon fibre clad Koenigsegg Agera R parked alongside a 918 Spyder in an underground carpark in Hamburg, Germany!
The Agera R pictured is certainly one of the nicest we've laid eyes on with it featuring a completely bare carbon fibre body as well as silver accents on the bonnet, decklid, rear wing and along the sides. It is also fitted with the Swedish manufacturer's lightweight carbon fibre wheels. Inside, white leather is featured prominently.
As for the Porsche 918 Spyder, it is finished in silver and complete with the optional Weissach package. Based on the dirt covering it, it seems apparent that the owner actually drives the German hybrid hypercar rather than simply storing it!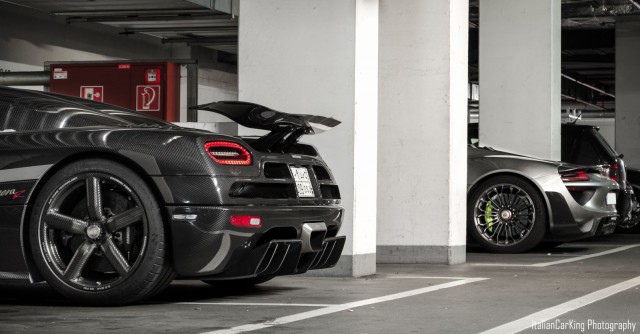 As a reminder, the Koenigsegg Agera R is powered by a 5.0-litre, twin-turbocharged V8 engine delivering a brutal 1140 hp on E85 ethanol. As a result, the car can rocket to 100 km/h in a mere 2.8 seconds and a claimed top speed of 442 km/h. By comparison, the 918 Spyder features a 4.6-litre mid-mounted V8 engine mated to two electric motors to deliver a combined 887 hp!