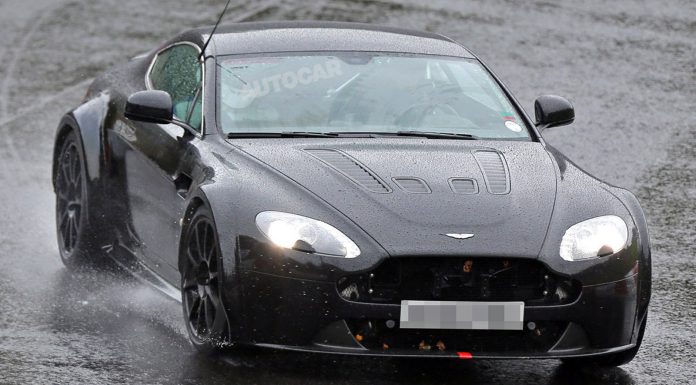 Just a few days ago, spy shots emerged of a rather mysterious Aston Martin Vantage prototype spied testing at the Nurburgring. Now new pictures of the car have surfaced alongside suggestions that it isn't an AMG-powered prototype and instead an even more extreme example of the existing V12 Vantage S.
This would fit in line with statements from the British manufacturer last year that it was planning an even more insane GT3 road-going variant of the V12 Vantage. As a matter of fact, while speaking with Autocar in 2013, Aston Martin engineering boss Ian Minards said, "It would be relatively easy to lose 100kg from the current car. That much could be saved by removing the air conditioning, simplifying the interior and fitting lightweight seats."
Alongside considerable weight savings, the Aston Martin Vantage GT3 could see power from its 5.9-litre V12 engine boosted to 600 hp from the current 565 hp of the V12 Vantage S. As a result, this would give the car a power to weight ratio of 383 hp per tonne. That is slightly better than the Ferrari 458 Italia
This particular prototype is immediately distinguishable from the current V12 Vantage S as it features flared wheel arches, wider tyres and a simplified front grille. Not featured on this test mule however is a large rear wing expected to make its way onto the car. While the fitment of such a wing won't lead to any top speed improvements, it will help bump up downforce at the rear wheels and make the Vantage GT3 even more capable on the track.
[Via Autocar]