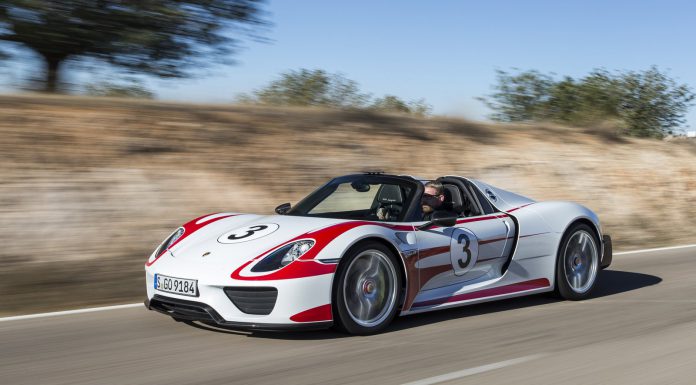 Porsche has confirmed that production of the potent Porsche 918 Spyder hybrid hypercar will wrap up in July next year with only a few examples remaining unsold.
While the German automaker has yet to announce just how many examples are looking for homes, it did say that production has been sold out through to late March of early April. Despite Porsche refusing to also reveal how many units it produces a month, our rough estimates suggest that about 40 918s are produced every month after taking into account that 918 Spyder production will take 22 months to complete since beginning in late September last year.
If correct, that would mean between 120 and 160 examples of the Porsche 918 Spyder remain to be sold.
While speaking with Automotive News about sales of the hypercar, vice president of marketing for Porsche Cars North America Andre Oosthuizen said, "So if that's anything to go by, it's probably in the last and the final straight."
Under the hood, the Porsche 918 Spyder of course uses a mid-mounted 4.6-litre V8 engine producing 608 hp independently – the highest specific power of any naturally aspirated Porsche engine. The V8 is then supplemented by a further two electric motors mounted on each axle. The electric motors can either drive the wheels independently or work together with the engine to boost performance. Each motor produces enough power to boost the total figure to an amazing 887 hp. A seven-speed Porsche Doppelkupplung (PDK) controls power delivery to the rear wheels.
[Via Automotive News]