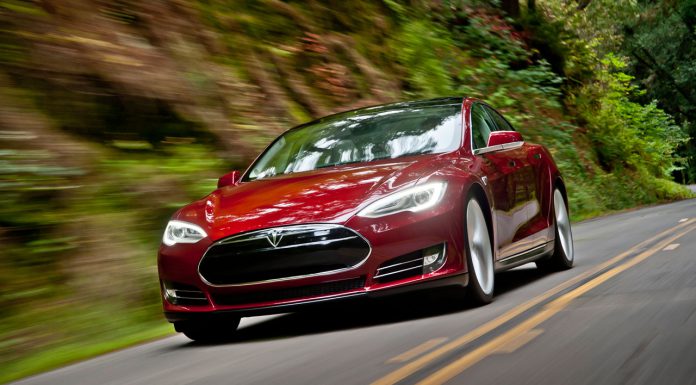 Just yesterday, official details about the Tesla Model S P85D emerged. Created as an all-wheel drive variant of the Model S and available in three different specifications, the range-topping P85D provides supercar levels of performance. Now pricing for the all-wheel drive equipped Tesla Model S has been released.
First off, there are the entry-level 60D and 85D variants. Adding the extra electric motor driving the front wheels costs an additional $4000. In these variants, the sprint to 96 km/h (60 mph) drops by 0.2 seconds with the top speed increasing to just over 200 km/h in the 60D and 250 km/h in the Tesla Model S 85D.
As for the Tesla Model S P85D, the traditional 470 hp electric motor driving the rear wheels has been replaced by a High Performance Dual Motor setup. The 470 hp electric motor remains at the rear but is now joined by a 221 hp motor driving the front wheels. It costs an additional $14,600 to have this setup installed on top of the rear-wheel drive Tesla Model S P85+.
Thanks to its 691 hp and 687 lb-ft of torque, the Model S P85D reaches 96 km/h (60 mph) in a mere 3.2 seconds and completes the quarter mile in just 11.8 seconds. These performance figures are even more impressive when you consider the fact that the Model S P85D is 291 pounds heavier than the standard car. However, it does have a perfect 50:50 weight distribution.
An autonomous driving feature is also available. It costs $4250 and gives the Model S the ability to drive itself. For now, the autopilot feature can only be used on private property.
[Via Autoblog]