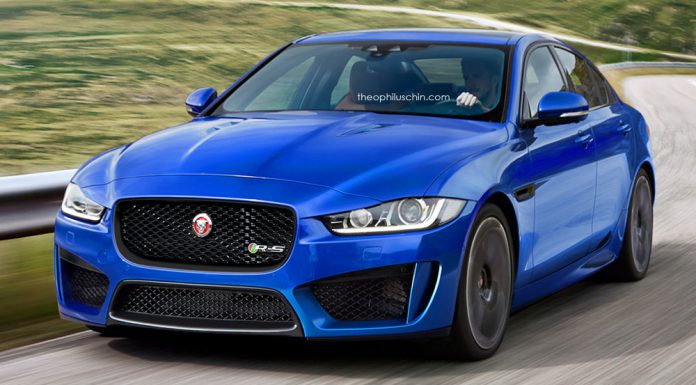 While Jaguar has yet to confirm such a model, it is inevitable that a variant of the new XE to rival the BMW M3 and new AMG C63 will be released. Expected to be either dubbed the Jaguar XE R-S or the XE SVR, Theophilus Chin has created the following rendering of how the car could look.
The following rendering isn't quite as in-your-face as this one, with the car not adopting a similar rear wing to the XFR-S. Nevertheless, it still features an aggressive front bumper and certainly looks purposeful.
Prior to the recent reveal of the 2015 Jaguar XE, reports surfaced suggesting that the Jaguar XE SVR will use Jaguar's existing 5.0-litre supercharged V8 engine. This powertrain will reportedly be tuned to deliver a total of 489 hp helping the XE SVR to sprint to 100 km/h in a mere 4 seconds as well as an electronically limited top speed of 250 km/h. However, Jaguar recently confirmed that the XE will be capable of hitting over 300 km/h (186 mph) so this will likely come by unlocking the limiter at the customer's request.
Mated to this potent engine will be the firm's 8-speed automatic transmission with it set to be tweaked to provide faster gear changes for the car. Elsewhere, the Jaguar XE SVR will adopt larger performance brakes as well as revised and stiffer suspension and of crucial importance, an electronically controlled limited slip differential.
Auto Express says that testing for the XE SVR will be largely conducted at the Nurburgring so we should see prototypes hitting the track in the next 6 months or so.
The top of the range (for the moment) Jaguar XE S gets the 340 hp supercharged 3.0 litre V6, an engine we drove quite extensively in the F-Type V6. A torque figure of 450Nm allows a 0-60 mph time of 4.9 seconds and an electronically limited top speed of 155 mph. Both figures make the XE S an impressive proposition!
[Via Theophilus Chin]