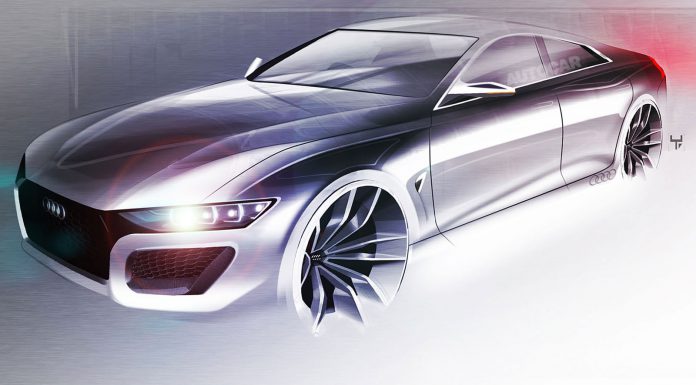 Further details about the upcoming Audi design concept set to debut at the Los Angeles Motor Show 2014 in November have emerged.
Pinned to preview a brand new flagship model, dubbed the A9, the design concept will also introduced a new design language for the German marque and be based on Audi's latest MLB platform. The design of the potential Audi A9 concept car has been headed by the company's new design boss, Marc Lichte. Set to measure over 5 metres in length, the car will rival the likes of the Porsche Panamera, Aston Martin Rapide and the Mercedes-Benz CLS.
2015 Audi RS7 Sportback

If a brand new Audi A9 model does eventuate, then it will be available in a range of specifications. Some of the most notable engines likely to be utilised include the company's twin-turbocharged 3.0-litre V6 engine as well as their range-topping 4.0-litre twin-turbo V8. Further engines will include a 3.0-litre diesel V6 available with electric twin-turbochargers as well as a 4.0-litre diesel V8. The aforementioned petrol twin-turbo 4.0-litre V8 will power the future Audi S9 and could deliver upwards of 600 hp.
Beyond these engines, two plug-in hybrid powertrains are likely to be made available for the Audi A9. They will debut in the second-generation Q7 set to be launched next year.
While speaking about the new design language as a whole, a source told Autocar that, "it builds on the design in place today but takes it to a whole new level. The design department is working very closely with the production department to give future Audi models a more technical look with added accuracy in terms of build – in keeping with their engineering."
As a result, we can expect to see a newly designed front grille, laser headlights as well as similar straight lines and aggressive edges to the German marque's latest design direction. Beyond the exterior look, the new concept is likely to preview new interior technologies for Audi.
[Via Autocar]