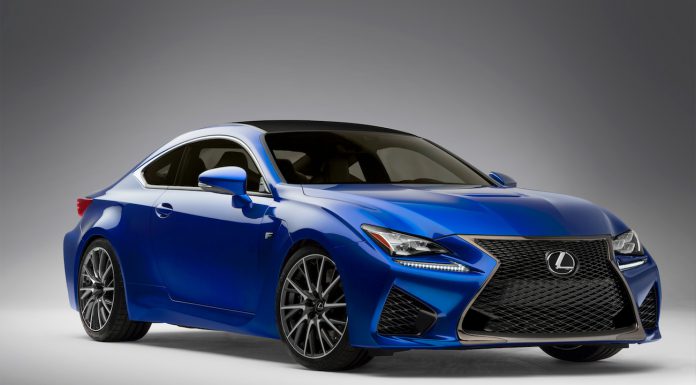 Pricing for the potent 2015 Lexus RC F has just been announced with the first press test drivers of the sports car underway. In the United States, the RC F starts at $63,325 which includes a $925 shipping charge. By comparison, the BMW M4 costs from $65,125.
The F performance model, based on the RC coupe, gets its roar from more than 450 horsepower and more than 383 pound-feet of torque all courtesy of an all-new 5.0-liter 32-valve V8 engine that will provide increased maximum power at higher engine rpm than previously possible. This engine is the most powerful V8 engine the Japanese marque has ever constructed. Lexus say that the car should weigh in at under 1,800 kilograms. The RC F will be limited to a top speed of 270 km/h.
Compared to the potent Lexus RC F, the BMW M4 produces less power, 431 horsepower but is considerably lighter, just 1,500 kilograms. It will be interesting to see which will come out on top on track!
At the front the signature Lexus spindle grille, featuring a subtle F-pattern on the lower half, dominates the front of the RC F from the bottom of the hood to the lower lip. Moving to the rear the RC F features an available speed-sensitive active rear spoiler that is inspired by the LFA hypercar.
Inside, the striking cockpit-like interior of Lexus RC F complements the aggressive exterior with its superbly crafted cabin. There are a number of unique components include the meters, steering wheel, seats, ornamentation and pedals. The instrument panel is dominated by a central meter which changes according to the four selectable driving modes, again like that of the LFA.
In the not too distant future, Mercedes-Benz will introduce its next-generation C63 AMG and soon after, a coupe variant. It will be interesting to see how it shapes up against the M4, RC F and Audi RS5.