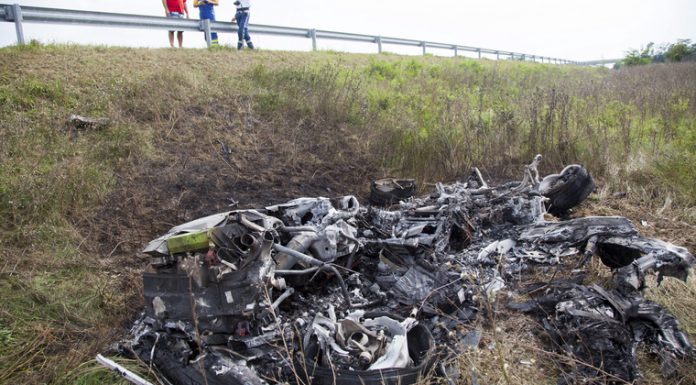 The Lamborghini Huracan is a brand new supercar. It only recently reached dealerships and customers have slowly been taking delivery ever since. It seems inevitable that as soon as any new supercar hits the street, at least one unlucky owner demonstrates its durability. That time has come for this Czech-registered Lamborghini Huracan.
It appears as though the accident took place on the M7 Motorway in Hungary last week as the car travelled towards Nagykanizsa. The occupants, a two men from the Czech Republic, were both taken to hospital. At least one is believed to be receiving treatment for serious injuries.
The Lamborghini Huracan is completely unrecognisable. The wheel is the only indication that this pile of ashes was once a Huracan. The photos reveal that the car left the highway, before taking out a large part of guard rail. The Huracan eventually came to a rest in a ditch by the side of the motorway. The fire completely gutted the exterior shell, leaving a handful of components to help identify the wreckage.
Somogy Police are currently investigating the circumstances that led to the accident. The cause of the accident is not yet known although we suspect that speed might have been one factor. The fact that the occupants were not instantly killed by the fire demonstrates the superior build quality of the entry-level Lamborghini.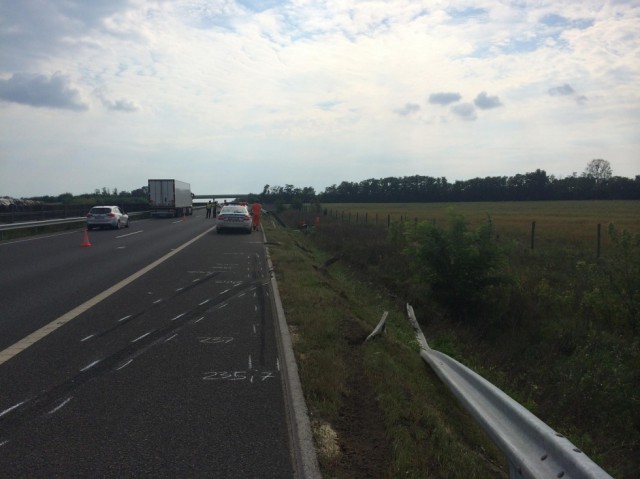 The Lamborghini Huracan is the successor to the critically acclaimed Lamborghini Gallardo. It features a revised 5.2-liter V10 engine which produces a total of 602 hp at 8,250 rpm and 560 Nm of torque at 6,500 rpm. The Huracan sprints from standstill to 100 km/h in just 3.2 seconds, from 0-200 km/h in just 9.9 seconds and features a top speed in excess of 325 km/h.
It features a carbon fiber and aluminium chassis helping to slightly reduce the Huracán's overall weight to 1,422 kg. Hopefully we won't see many other Huracan accidents in the near future.