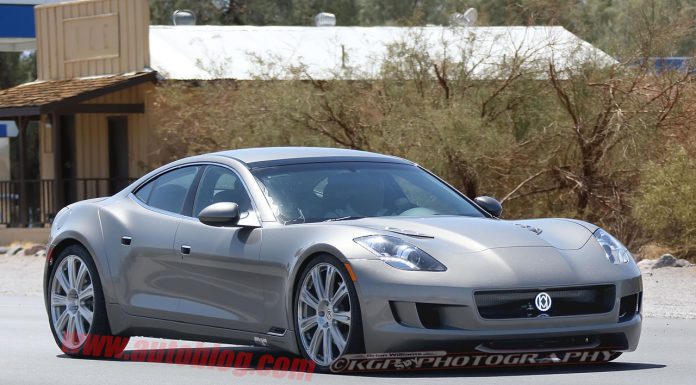 The Fisker Karma based WM Destino from Bob Lutz's VL Automotive has been undergoing hot weather testing in Death Valley.
Previously known as the VL Automotive Destino, the car is expected to be dubbed the WM Destino when it launches. This is because back in May, VL Automotive merged with WM Greentech. Despite many promises over the last 12 months or so, very little has been known about the Destino and when and if it'll in fact see the light of day.
The fact that two prototypes were spied testing however, proves that development of the car is continuing to progress and gives us good hope that the car will launch in the not too distant future.
Under the hood, the WM Destino will be fitted with a 638 hp supercharged LS9 V8 from the Chevrolet Corvette ZR1. That potent powertrain is then mated to either an automatic and six-speed manual transmission. If that sounds too powerful, the Destino sedan is also available with a 6.2-liter naturally aspirated V8 delivering 450 hp. It also recently emerged that VL Automotive could offer similar V8 upgrades for the Tesla Model S.
Late last year, it was revealed that VL Automotive had purchased 25 Fisker Karmas and was looking to snap up a further 300 unsold examples.
[Via Autoblog]