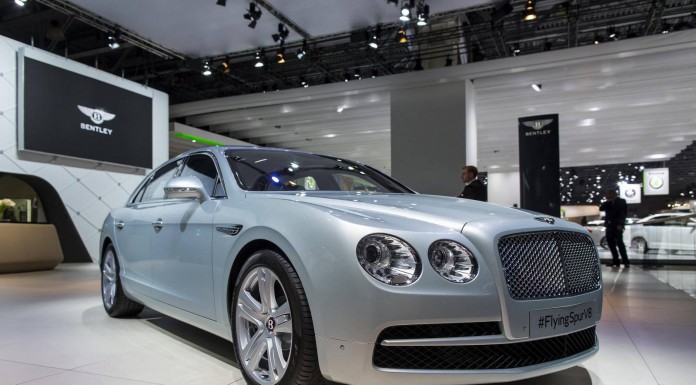 Following its worldwide public debut at the Geneva Motor Show 2014 earlier in the year, the Bentley Flying Spur V8 has been put on display at the Moscow International Auto Show 2014. This particular example is finished in silver and looks exceptional.
The Bentley Flying Spur V8 shares the same 4.0 litre V8 engine with the Bentley Continental GT V8. Its twin-turbo powerplant develops 507 hp together with 660 Nm of torque (slightly more than the Continental GT V8). The powerplant is enough to propel the Flying Spur V8 from 0-100 km/h in 5.2 seconds and on to a top speed of 295 km/h.
Bentley has given the 2015 Bentley Flying Spur V8 an impressive fuel range of 840 km. These fantastic figures are achieved thanks to the engine efficiency, cylinder deactivation, intelligent thermal management and electrical recuperation.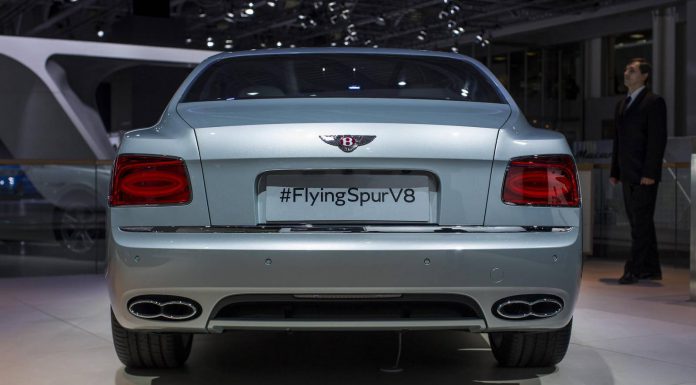 The 2015 Bentley Flying Spur V8 gets a ZF eight-speed automatic transmission identical to the W12 model with a continuous all-wheel drive system and independent computer-controlled air suspension.
Subtle styling differentiates the Flying Spur V8 from the W12 with figure of eight chromed exhaust tips, a Bentley winged badge with a red centre and a front bumper grille finished in black with a black "wing" insert. The styling cues are essentially the same as the Bentley Continental GT V8 then. As standard, the V8 gets 19 inch Classic alloy wheels in a painted finish.
The 2015 Bentley Flying Spur V8 comes with a suite of on-board technology including an innovative Touch Screen Remote, deployed from the veneered rear centre console at the touch of a button and an optional Multimedia Specification which adds a Rear Seat Entertainment system.
The Bentley Flying Spur V8 also receives a monotone interior colour split, Dark Fiddleback Eucalyptus wood veneer, a single-piece three-person rear seat, a single front armrest and a choice of seven exterior paints and four interior colours.