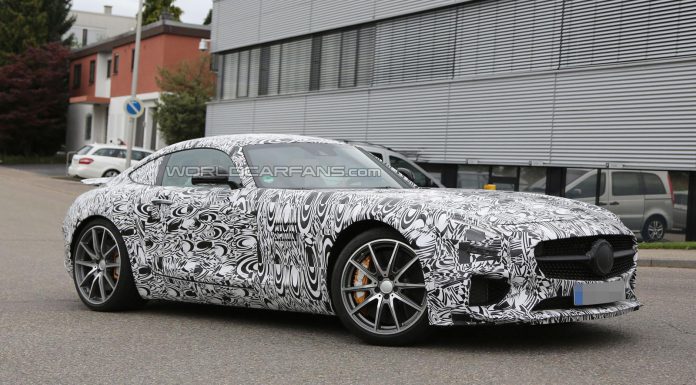 Just a couple of days ago, an intriguing video emerged showing a 2015 Mercedes-AMG GT prototype spied testing at the Nurburgring. Unlike previous AMG GT prototypes, this particular example featured a fixed rear wing, more aggressive bodykit as well as a more pronounced exhaust note leading to speculation that it could be a Black Series variant.
Now the same prototype has been snapped up close and it is quite apparent that it features a range of new panels distinguishing it from previous AMG GT prototypes. However, there is a suggestion that this prototype could be fitted with an optional aerodynamic package to be made available for the firm's new range-topping sports car.
This would make quite a lot of sense considering the Mercedes-AMG GT will be available in more variants than the SLS AMG. For example, it will be available as the regular AMG GT and the uprated GT-S from launch. The addition of an aerodynamic package will allow customers further scope to customise their cars. Additionally, it seems rather unlikely that Mercedes-Benz would begin testing a Black Series version before the regular car even hits the market.
As for the louder exhaust note of the pictured prototype, that could come courtesy of an optional sports exhaust system.
As mentioned, the initial range-topping version will be the Mercedes-AMG GT-S. Its brand new 4.0-litre twin-turbocharged V8 engine should deliver an impressive 503 hp at 6250 rpm. That equates to 126 hp per litre and is joined by an equally impressive torque figure of 479 lb-ft between 1750 and 4750 rpm.
Known internally as the M178, the engine is a completely new replacement for the naturally-aspirated 6.2-litre V8 engine which of course powers the GT's predecessor, the SLS AMG. It features the same 83 mm bore and 92 mm stroke as the 2.0-litre turbocharged four-cylinder utilised by the A 45 AMG, CLA 45 AMG and GLA 45 AMG. The turbochargers are produced by Borg Warner and operate at a maximum pressure of 2.3 bar.
[Via World Car Fans]