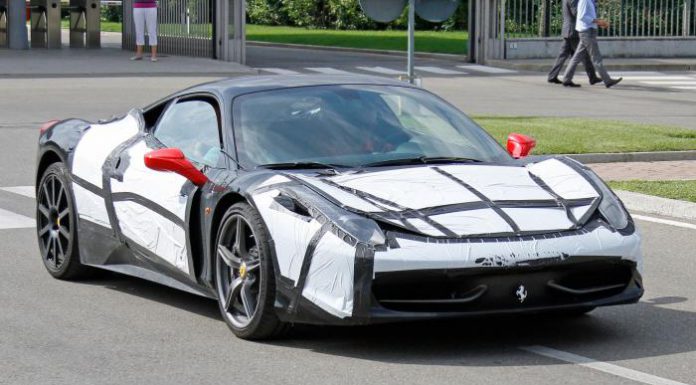 New reports have emerged indicating that the upcoming 2015 Ferrari M458-T could launch at the upcoming Paris Motor Show 2014 in October. This goes against previously suggestions that the new twin-turbo 458 would debut at next year's Geneva Motor Show.
Auto Express also believes that the car will go on sale in early 2015. While we will inevitably have to wait a little bit longer to found out if these claims are correct, we have a good idea of what to expect from the Ferrari M458-T.
Not too long ago, a prototype was spied testing under the body of a current 458 Italia. However, there were a few tell tail signs indicating that some serious changes have been adopted beneath the skin. First off, the tri-tailpipe design of the 458 Italia has been replaced by dual tailpipes positioned further apart. Additionally, the presence of heavy camouflage across the front end and side suggests that some changes to the bonnet and doors are being tested. It is quite possible that many of the existing creases and edges of the current design will be modified to improve aerodynamics and set apart the new 458 from the current car.
Beneath the skin, the Ferrari M458-T will reportedly receive the 3.8-litre twin-turbocharged V8 used by the new Maserati Quattroporte and Ferrari California. In the 458, it is expected to produce 670 hp and is expected to lead the car's name to being changed to the Ferrari M458-T. Such power figures are 100 hp more than the current 458 Italia and more importantly, about 30 hp up on the McLaren 650S.
From a further visual perspective, some rather dramatic changes are likely to ensure that the new engine gets an adequate amount of air going its way. As a result, we expect to see larger front air intakes, also helping to cool inevitably larger brakes, as well as reshaped bumpers both up front and at the rear. Elsewhere on a design front, new LED headlights are pinned to be used along with aerodynamic improvements to increase downforce.
In the cabin, the Ferrari M458-T will receive the same Harman-Kardon infotainment system as the California T.
[Via Auto Express]