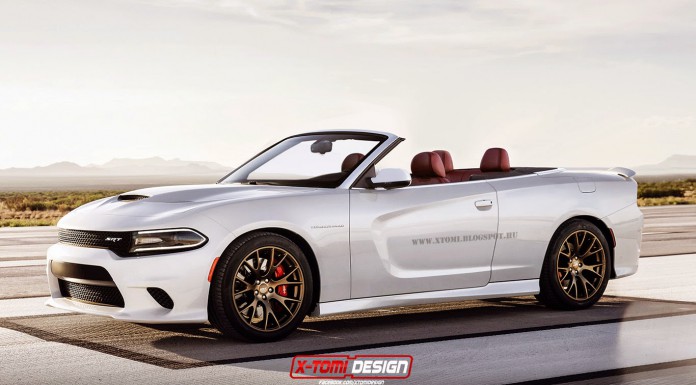 Close your eyes and think of the perfect Dodge Charger. Chances are you thought of the just released 2015 Dodge Charger SRT Hellcat. What you probably didn't think about is a convertible variant of the new SRT Hellcat.
While we can safely say Dodge won't create such a model, X-Tomi Design has decided to render it anyway!
As for the real sedan version, it features a truly absurd 6.2-litre supercharged V8 engine delivering 707 hp and 650 lb-ft of torque. In the Challenger SRT Hellcat, this engine makes it the most powerful muscle car ever and in the 2015 Dodge Charger SRT Hellcat makes it the most powerful production sedan in the world easily taking the crown from the 625 hp Mercedes-Benz S65 AMG. As a matter of fact, the Charger SRT Hellcat completes the quarter mile in 11 seconds flat on street tyres, hits 96 km/h (60 mph) in 3.7 seconds and reaches a top speed of 328 km/h (204 mph). It will also go from a standstill to 160 km/h back to zero in under 13 seconds. The Charger SRT Hellcat includes two key fobs with the red one unlocking all 707 horsepower!
Just like the Challenger, this engine is mated to a TorqueFlite heavy duty eight-speed automatic transmission capable of performing 160 millisecond shifts with rev-matching. Braking is provided by the largest brakes ever offered by the Chrysler Group and the same as those from the Challenger with 15.4 Brembo two-piece rotors at the front with six-piston calipers.
[Via X-Tomi Design]