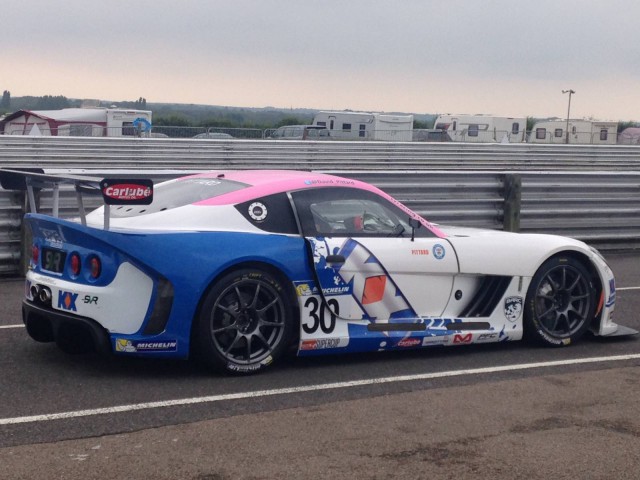 Despite some rather ominous weather reports, Saturday the second of August dawned bright and clear. I had earned the chance to visit Snetterton and take in all the action that the day presented with my family and fellow student, Jack Tate. It was my first time in the world of motorsport, and I had no idea what to expect.
Once we had joined our guide, it was off to the Media Centre, one of the most important places on site; it's where all of the action of the races is reported far and wide. It was tremendously fascinating watching the reporters at work.
From there, we went to the Paddock to interview some of the drivers. I talked to twenty-two year old David Pittard, who had just placed second in the Michelin Ginetta GT4 SuperCup qualifiers, a great position to begin the race.
Pittard told me that Snetterton was a fairly challenging track – specifically the numerous corners making it tricky. However, some new technical regulations recently passed in July have apparently made driving easier, with things like MacPherson strut suspension being introduced to all cars.
Then came my first driving experience. We were allowed to try out a Michelin simulator, which was programmed for the Silverstone track. Although I was absolutely terrified of crashing, I still had a lot of fun. Lunch at Ginetta hospitality followed, and I couldn't wait to find out what was coming next.
What did happen was a big surprise. We visited David Pittard's garage, where he let us sit in his car and explained how he used the different controls to drive. I was extremely grateful for the opportunity and thoroughly enjoyed it.
We were given a slight break to go and watch the Dunlop MSA British Touring Car Championship qualifiers, in which Jason Plato quickly rose to pole position for the first of Sunday's races. Next came the Michelin Ginetta GT4 SuperCup race. Charlie Robertson took first place, with Carl Breeze 4.695 seconds behind him and Tom Oliphant in third. David Pittard fell from second place to fourth and was unable to work his way back up.
That was it for the day, but the championship had yet to finish- the Michelin Ginetta GT4 SuperCup race (race 13) was scheduled for Sunday.
The sunny weather continued on Sunday, good conditions for the drivers. The race began, yet David Pittard was sadly unable to start because a wheel nut came off on the grid. A fierce battle for first place ensued, but eventually Oliphant ended on top, with Will Burns and Andrew Watson taking second and third place respectively.
Visiting Snetterton with JAM was very interesting, and I had a great time exploring what really makes up the motorsports industry beyond the track.
Reporter: Emma Hassey
(This article is part of a series of articles from students of the Junior Academy of Media powered by Michelin and Ginetta in cooperation with GTspirit.)