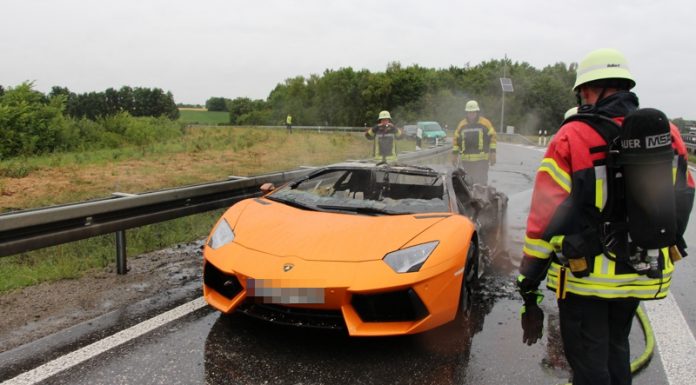 A bright Lamborghini Aventador has gone up in flames and been destroyed after catching fire on the Autobahn in Germany. The accident happened on the A81 autobahn near Stuttgart. Both driver and passenger managed to get away from the fireball without sustaining any injuries.
Unfortunately, fires in high-performance sports cars and supercars happen far too often and this example is one of the worst in recent memory. By the time fire crews arrived to douse the flames, only the front end was left relatively unscathed. Needless to say, this particular Lamborghini Aventador is a complete write-off.
German news reports suggest that the car burnt down on a test drive. The orange Lamborghini Aventador had apparently been fitted with a replacement engine when a defect in one of the engine cooling systems led to the break out of a fire. Onlookers caused long delays on both carriageways of the A81 while the fire crews worked on the Italian supercar.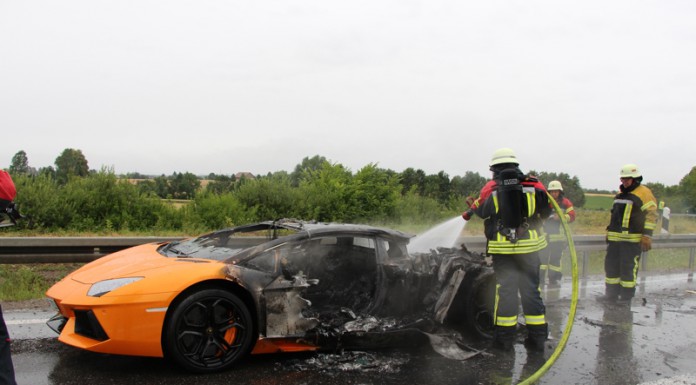 The heat was so intense that it took eight firefighters to extinguish the blaze. Damage was caused to the road surface and to the roadside barriers which fire crews estimated at 5,000 euros. Pennies compared to the loss of the 300,000 euros supercar. The owner will be able walk away with a couple Aventador headlights and not much more!