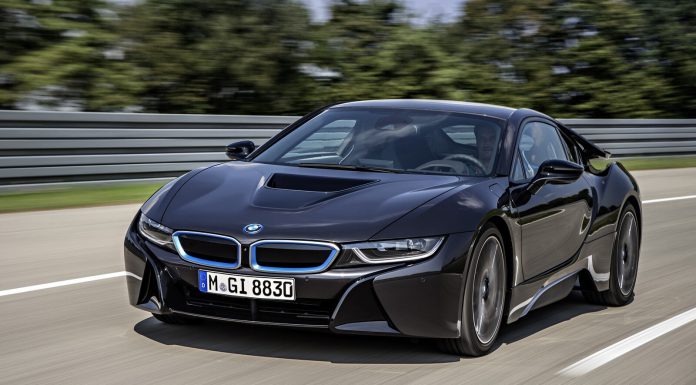 Official U.S. pricing for the very special BMW i8 hybrid sports car has just been released alongside all the optional extras.
For starters, the BMW i8 will set U.S. buyers back a minimum of $135,700 plus a $950 destination charge. However, once customers begin ticking the options boxes, that list price will begin to rise quite dramatically.
First off, all initial BMW i8s to arrive in the States will include a trim package dubbed 'Pure Impulse World' with it carrying he cool price of $10,800. This package includes things like perforated grey leather, blue seatbelts, i8 embroidered headrests, black brake calipers, a leather engine cover, floor mats with leather-edging, blue detailing and a zirconium oxide ceramic coating on the gear lever.
A further 10 per cent of initial U.S-bound BMW i8s include the $3000 'Tera World' trim complete with blue seatbelts, full LED headlights as well as 20-inch alloy wheels.
The production-spec i8 was of course revealed to the public last year at the Frankfurt Auto Show with production commencing in April. Powering it is a 1.5-liter three-cylinder TwinPower Turbo petrol engine, good for 231 horsepower and 320 Nm of torque, in addition to a 130 hp electric motor. The petrol engine sends power to the rear wheels through a six-speed automatic gearbox, while the electric motor turns the front wheels through a two-stage transmission. The combo is good for 362 hp and 570 Nm of torque, 0-100 km/h in 4.4 seconds and most importantly, up to 113 miles per gallon.
Read more details about the options by following the link below!
[Via BMW Blog]