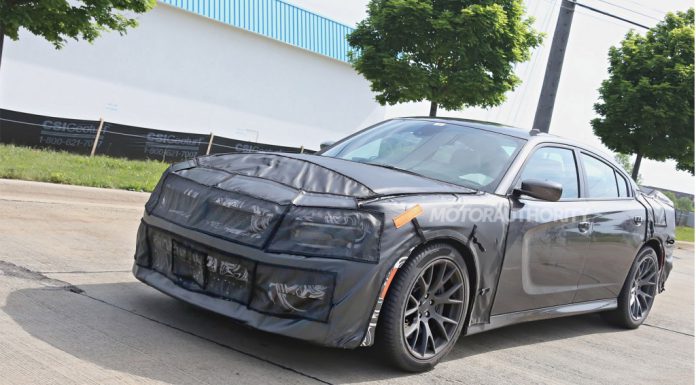 The upcoming 2015 Dodge Charger SRT has been spied testing for the very first time just a couple of months after the new car launched.
While it remains to be confirmed, it is possible that two SRT variants of the Charger will be available. Firstly, they'll be the regular Charger SRT complete with the 6.4-litre HEMI V8 engine from the new Challenger SRT. However, there is also a suggestion that a 2015 Dodge Charger SRT Hellcat could arrive with the same 707 hp engine as the Challenger SRT Hellcat. If that is true, then the car would quite comfortably be the most powerful five-door car from the factory in the world.
The following spyshot also reveals a host of styling changes. Most prominently, this prototype features a massive power dome on the bonnet which could help cool and support the supercharger from the Hellcat's screaming 6.2-litre V8.
Elsewhere, the 2015 Dodge Charger features new LED headlights, LED daytime running lights as well as a more aggressive front bumper. Additionally, it will also feature larger front air intakes, a prominent front splitter along with upgraded suspension and brakes and twin exhaust pipes.
Production of the 2015 Dodge Challenger SRT is expected to start in the fourth quarter of this year. Finished examples will then be delivered from 2015 onwards.
[Via Motor Authority]