With wide bodykits for the likes of the Ferrari 458 Italia and Nissan GT-R in its inventory, Japanese tuner Liberty Walk is certainly no stranger to overhauling the look of mighty supercars and sports cars. Now the company has revealed the first photos and details about its wide bodykit for the BMW 4-Series Coupe.
As you'd expect, the wide bodykit incorporates Liberty Walk's now trademark massively flared arches both front and rear to dramatically increase the width of the German sports cars. As always, they feature visible rivets.
Further visual upgrades on the BMW 4-Series Coupe by Liberty Walk include a brand new front bumper with a prominent and in-your-face front splitter as well as redesigned air intakes. The car also incorporates new side skirts designed to match the aggression provided by the flared wheel arches and they do just that.
Additional upgrades found on the kit include a towering ducktail spoiler, redesigned rear bumper, massively rear diffuser splitting up the quad exhaust pipes as well as lowering suspension to drop the ride height of the car immensely and to give it an added sense of pugnaciousness. Typically from Liberty Walk, its 4-Series Coupe kit also includes massively wide tires and wheels.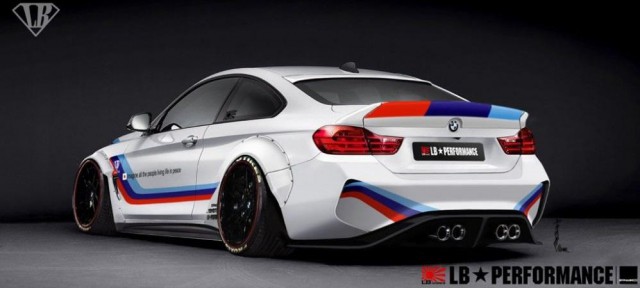 The entire kit can be purchased for just $13,500 in the U.S but each of the aforementioned pieces can be purchased individually.