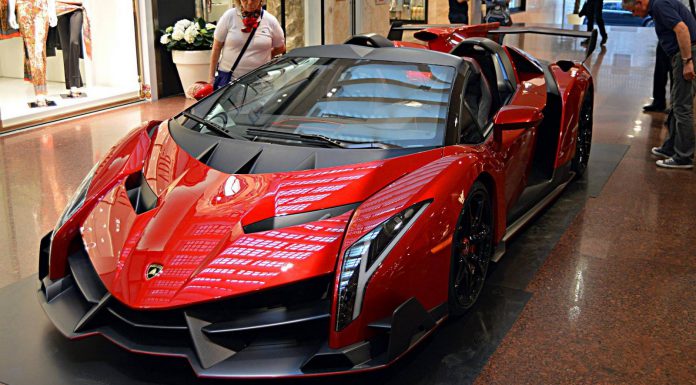 A Lamborghini Veneno Roadster was one of the star attractions at Bologna's Galleria Cavour shopping centre this week. The Lamborghini Veneno Roadster was placed in communal space at the luxury shopping centre, presumably to attract the attention of wealthy clientele.
The Lamborghini Veneno Roadster is one of the most exclusive hypercars on the market. Galleria Cavour rivals it in that respect as it is home to such luxury fashion labels as Louis Vuitton, Prada, Bvlgari, Burberry and Armani. Automobili Lamborghini even have their own shop as part of the complex alongside Italian rivals Maserati.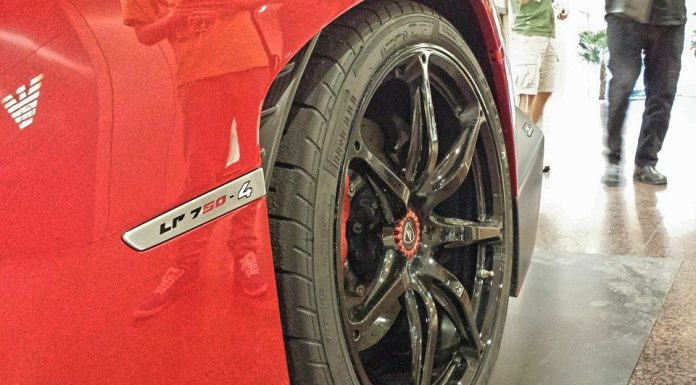 The Lamborghini Veneno Roadster costs an eye watering 3.3 million Euros plus taxes. The engine is the Aventador's new 6.5 litre V12 unit, uprated to 750 hp in the Veneno Roadster. Power is driven through an all-wheel drive system via a modified ISR transmission.
In terms of design, Lamborghini claim that the extreme styling of the Veneno Roadster is down to aerodynamics. Both airflow and downforce are optimised in a number of key areas. The front and rear wings act to apply high levels of downforce to the car. The car is a permanent Roadster with no weather protection!
[Spotted by Beyond Speed]