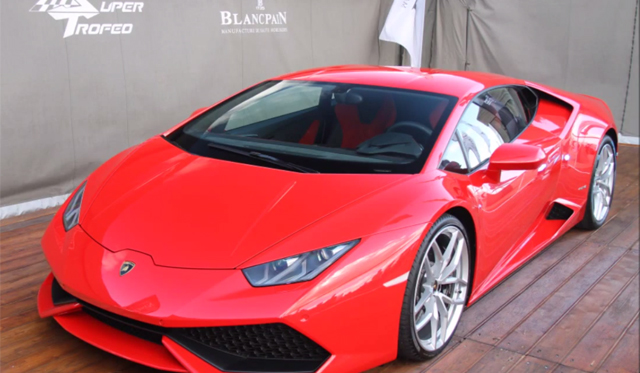 The brand new Lamborghini Huracan recently made its public U.K. debut at the Lamborghini Super Trofeo race series at Silverstone.
[youtube]https://www.youtube.com/watch?v=ieKspZC0RLs[/youtube]
This particular Huracan example was finished in a stunning shade of red dubbed Rosso Mars. Unlike any other colour offered by Lamborghini, Rosso Mars has become quite popular since the launch of the Lamborghini Aventador. While it is red, it is clearly distinguishable from traditional Ferrari red and adds an entirely new unique element to Lamborghinis and in this case, the Lamborghini Huracan.
[youtube]https://www.youtube.com/watch?v=OYS0bkP1gHU#t=70[/youtube]
As you probably already know, under the hood, Lamborghini Huracan features a brand new 5.2-liter V10 engine delivering 602 hp. As a result of this, the Huracan can hit 100 km/h in just 3.2 seconds and a top speed of 202 mph. Mated to this engine is a new dual-clutch sevens-speed semi-automatic transmission driving all four wheels.