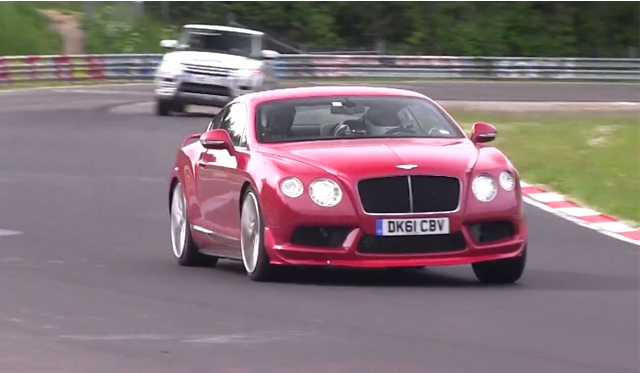 Another interesting Bentley Continental GT prototype has been filmed testing viciously at the Nurburgring with this particular example finished in a bright shade of red.
It recently emerged that the prototypes could be test beds for a new Bentley Continental Supersports. The previous-generation Bentley Continental Supersports was first revealed in early 2009 and is powered by a 6.0-liter W12 engine capable of running on petrol and E85 ethanol fuel. All up, it delivers 621 hp and 590 lb-ft of torque. However, the latest Continental Supersports is set to be powered by the firm's latest 4.0-liter twin-turbocharged V8 engine.
[youtube]https://www.youtube.com/watch?v=E-SAMmfTYo4#t=20[/youtube]
It is possible that the latest Bentley Continental Supersports could act as the firm's GT3 racing car for the road and consequently, be its most track-oriented road car ever. Based on this prototype spied testing, that seems a possibility considering the new downforce generating elements it featured including a more prominent rear diffuser and rear wing.
Importantly, Bentley says that a new Continental Supersports has yet to be given the tick of approval for production and that such a decision lies in the hands of newly appointed boss Wolfgang Durheimer.
Interestingly, this latest Continental Supersports wouldn't act as a replacement to the previous W12 powered car and instead just act as a more focused version of the Continental V8 S and consequently deliver around 545 hp.