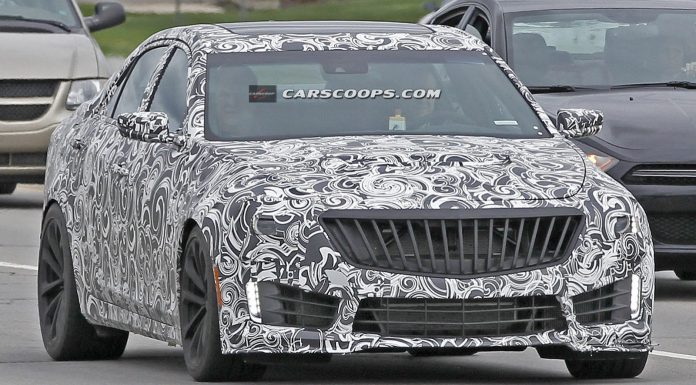 New spyshots have emerged of the upcoming 2016 Cadillac CTS-V and according to those that snapped the pictures, the car may not feature the Z06's supercharged 6.2-litre V8 like expected.
As a matter of fact, it is claimed that this prototype features two intercoolers behind the two air intakes possibly there to cool a twin-turbo engine rather than a supercharged one. If this is the case, then there's a chance the new CTS-V will feature GM's new 4.5-litre twin-turbo V8. However, we're not convinced.
As has been pointed out, the supercharged engine from the latest Z06 does feature a pair of intercoolers unlike many superchargers. As a result of this, there's a very real possibility that the same 6.2-litre supercharged V8 engine is featured and that it has just been packaged differently for the CTS-V.
Also, prior to the launch of the new Z06, there was speculation the car could feature a twin-turbo V8 and we know how that turned out. It seems rather unlikely that Cadillac would utilise a brand new engine for simply a special, high-performance variant of the CTS-V when the Corvette's V8 could do the job more than adequately.
If the new CTS-V does feature the Z06's engine, which we believe it will, the powertrain will be slightly tweaked but is still likely to produce in excess of 600 hp.
[Via Carscoops]