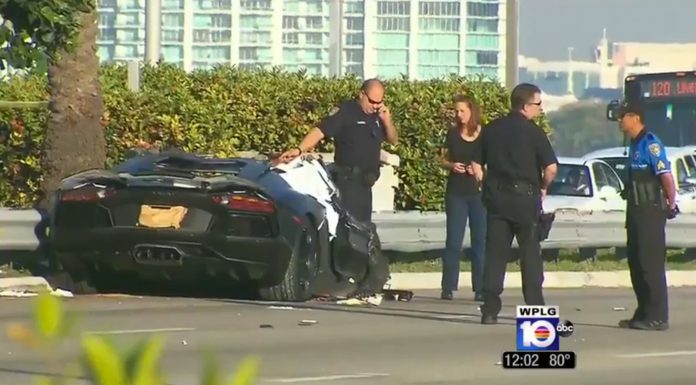 A horrific Lamborghini Aventador accident occurred last night in Miami. Police say that the Lamborghini Aventador was travelling at speeds in excess of 100 mph along MacArthur Causeway, Miami Beach at around 3 am. The driver failed to slow for a set of traffic lights and ploughed into the back of a Chevrolet Suburban.
The resulting wreck was so violent that the Lamborghini Aventador continued to travel down the highway for a further 100 metres before coming to a rest. The top was taken clean off the Italian supercar and came to rest a distance away from the car.
Unfortunately, the passenger travelling in the Lamborghini Aventador, the brother-in-law of the driver, died at the scene of the accident. The driver of the Lamborghini, 53 year old Andres Esteban Toro, was taken to hospital. The driver of the Suburban was returning from work at the time of the accident and was also taken to hospital suffering from numerous broken bones.
Whilst Police are investigating the cause of the accident, they have already confirmed to journalists that the Lamborghini driver will likely face a charge of reckless driving. They are waiting to hear back on toxicology reports to confirm whether or not the driver was under the influence of alcohol or drugs.
[Via Local10]