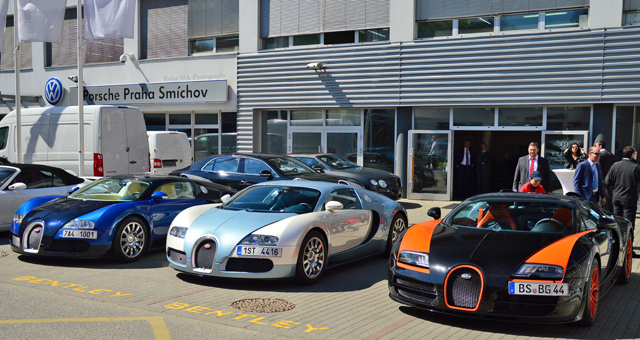 French supercar maker Bugatti is trying to sell the last remaining pieces of Veyron and few days ago brought a Bugatti Veyron Grand Sport Vitesse WRC to Prague and in cooperation with Mr. Pierre-Henri Raphanel to show clients from the Czech Republic how fast Veyron can be.
[youtube]https://www.youtube.com/watch?v=EVCe7OBcntc[/youtube]
The Grand Sport Vitesse World Record Edition was a limited run production Veyron of eight. Unveiled at the Shanghai Motor Show in 2013, the World Record Edition Grand Sport Vitesse uses a black and orange exterior color scheme with orange accents around the headlights and orange wheels. On the inside, it uses a similar black and orange color combination.
The Vitesse produces a maximum output of 1,200 hp and this allows the car to reach 100 km/h from zero in an astounding 2.6 seconds. These beautiful images were captured by Kuba Mik Photography, Vincero and the amazing supercar videos made by Cossie670.
[youtube]https://www.youtube.com/watch?v=Ac3tp-tFknc[/youtube]