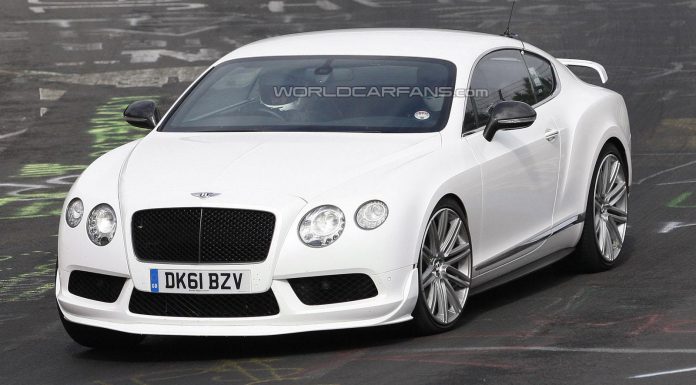 An interesting Bentley Continental GT V8 S prototype has recently been spied testing at the famous Nurburgring.
Details about the car remain unclear, but visually, it can be clearly distinguished from the already impressive Continental GT V8 S. Most prominently, this prototype features a prominent rear wing and redesigned front splitter indicating that it is an even more powerful and track-focused variant possibly dubbed the Bentley Continental GT V8 S.
Bentley Continental GT V8 S

The V8 engine currently found in the Bentley Continental GT V8 S is capable of pumping out 521 hp at 6000 rpm which will allow it to race from 0-100 km/h in as little as 4.3 seconds. The V8 S Coupé tops out at 307 km/h. Visual differences are limited to an additional front splitter, side sill extensions, 20 inch alloy wheels and a rear diffuser. It sits 10 mm lower to the ground than its smaller sibling with increased spring rates (45 per cent front and 33 per cent rear), stiffer bushes and anti-roll bars to provide sharper handling.
If this prototype is indeed previewing a more track focused variant, it will likely feature a little bump in power, even stiffer springs and shocks as well as an upgraded braking system. It could also be stripped of some of the luxuries found in the standard GT V8 S.
[Via World Car Fans]