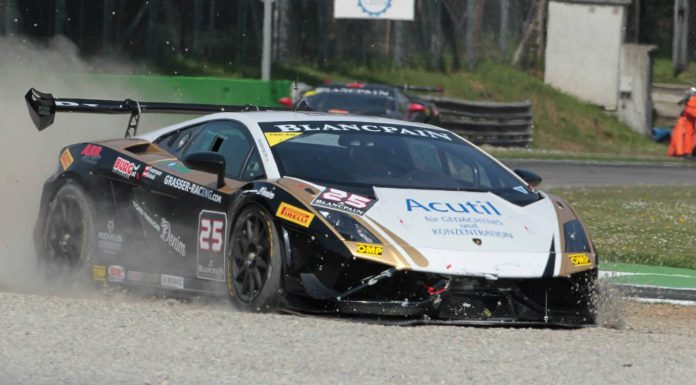 The 2014 Lamborghini Blancpain Super Trofeo Europe kicked off in Monza this past weekend. It was Andrea Palma who won the first race driving for Autocarrozzeria Imperiale. He led from start to finish after claiming pole position earlier on. This is the sixth season of the Lamborghini Blancpain Super Trofeo Europe. Palma had to keep off another PRO team Lamborghini Super Trofeo of Milos and Piscopo driving for Bonaldi Motorsports who took second in class and overall.
Third overall and first in the Pro AM class during race one was another Bonaldi Motorsports Lamborghini Super Trofeo of Mirko and Aristotelis. The 2013 PRO-AM winner Andrea Amici finished in fourth still racing under Autocarrozzeria Imperiale and he was followed by new rookie Alberto di Folco from the same team who is only 18 years old.
Race two saw a change in the order of top finishes as Bonaldi Motorsports duo of Milos and Piscopo rose to glory, taking the win in this race. Race one winner Andrea Palma suffered a puncture that forced him back in the timesheets. Second place went to the 23-year old Jeroen Mul of Lamborghini Racing Team Germany, an improvement from race one where he finished 10th. Third place and first in PRO-AM class went to Cedric Leimer who was also the 2013 Pro-AM vice champion.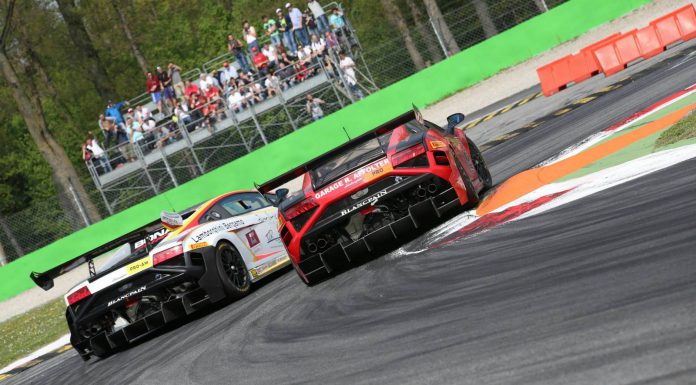 The duo of Milos and Piscopo now lead the standings in the PRO cup class with six points ahead of Palma. The next round of the Lamborghini Blancpain Super Trofeo Europe will take place at the Silverstone circuit in the UK on May 23rd.