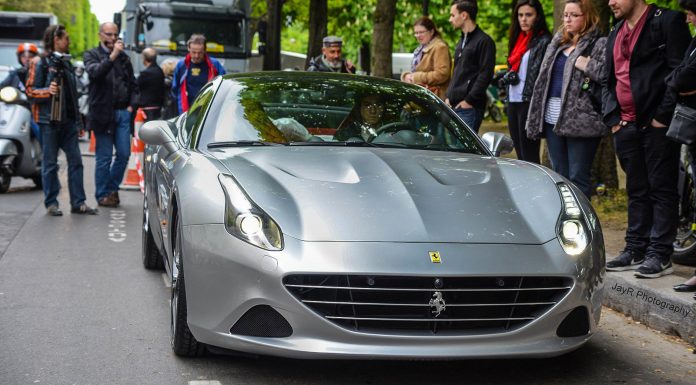 Two brand-new Ferrari California Ts were spotted in Paris yesterday after having just been unloaded off of a truck. The two cars were spotted by sharp-eyed GTspirit reader Jay R photos.
The California Ts were in Paris for their French debut on the first day of the annual Tour Auto Optic 2000 rally. The cars drew quite a crowed in the city's center, but if you weren't one of the lucky people who saw the vehicles being unloaded off the truck, you can catch them at the Tour Optic 2000 until April 12.
Ferrari first pulled the wraps off of the turbocharged California T at the 2014 Geneva Motor Show in March, although this marks the first time the car has been spotted on public roads. It is the first turbocharged car from Maranello since the legendary Ferrari F40, utilizing Ferrari's all-new 3.8-liter V8 twin-turbocharged engine. The unit produces a stratospheric 552 horsepower and an equally as impressive 556 lb-ft of torque, helping to propel the car from 0-100 km/h in 3.6 seconds and on to a top speed of around 315 km/h.