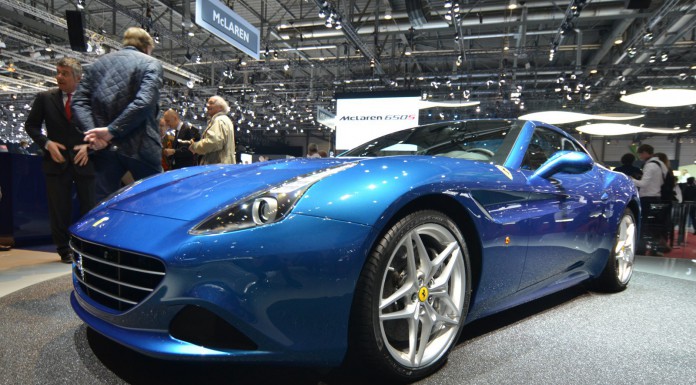 Ferrari's big release for the Geneva Motor Show 2014 is the Ferrari California T. Released a couple of weeks ago, the new Ferrari updates the outgoing Ferrari California that divided opinions from launch. Whilst it isn't quite attracting the same attention as the LaFerrari did last year, we think it is a definite improvement of the hard-top convertible offering! We sent a photographer to take a closer look.
The Ferrari California T is the first Ferrari since the legendary Ferrari F40 to feature a turbocharged engine. The new twin-turbocharged 3.8-liter V8 engine sits atop a heavily reworked chassis. It retains the aluminium construction, yet 60 percent of the components are brand new. Power is rated at 552 hp from 7,500 rpm and a staggering 755 Nm of torque at 4,750 rpm. This is around 20 hp and 100 Nm of torque more than the Maserati Quattroporte GTS which also uses the same engine.
It loses the stacked quad exhaust pipes that made the previous generation so recognisable. Instead, it gains a carbon fibre rear diffuser which helps cure the bloated look of the previous generation Ferrari California. The hood now features two aggressive air vents, the front features a thorough redesign and the side resembles the lines of the Ferrari F12 Berlinetta.

Overall, the new car looks pretty good! The name, Ferrari California T, refers to the turbocharged engine. If you want to find out more about the Ferrari California T, take a look at our earlier article. If you want more of our incredible Geneva Motor Show 2014 coverage, take a look at our dedicate news channel!