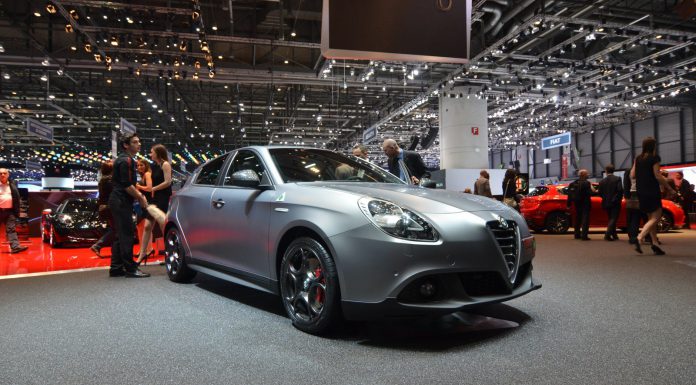 The Alfa Romeo Giuliette Quadrifoglio Verde is now showing live at the Geneva Motor Show 2014. The Alfa Romeo Giulietta Quadrifoglio Verde combines the impressive Alfa Romeo 4C engine with the platform of the Giulietta hatchback.
The turbocharged engine from the Alfa Romeo 4C displaces a mere 1.75-liters yet still delivers an impressive 237 hp. This powertrain delivers its peak power at a relatively high 6,000 rpm while torque is rated at 258 lb-ft at 2,100-4,000 rpm. Most importantly, 80 per cent of that torque is available from just 1,800 rpm. However, the Alfa Romeo Giuliette Quadrifoglio Verde is obviously a lot heavier than the 925 kg 4C, but can still sprint from 0-100 km/h in a mere 6.6 seconds.
Interestingly, this engine has actually received a few updates for the latest Giulietta. It is fitted with a new fuel intake helping to make the exhaust sound even better. The engine is then mated to a six-speed dual-clutch automatic TCT gearbox driving the front wheels. The Giuliette Quadrifoglio Verde will replace the current range-topping 232 hp Giulietta Cloverleaf at the top of the Giuliette range when it hits the market in May this year.

Full details on the Alfa Romeo Giulietta Quadrifoglio Verde can be found in our earlier post. Follow us on Facebook, Twitter and Instagram for exclusive live photos and behind the scenes updates.