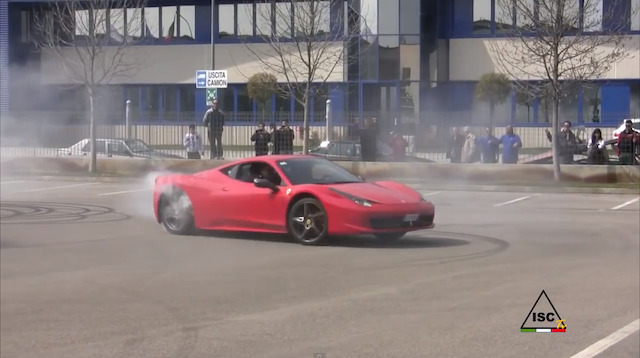 Burnouts and donuts, two of the most amusing and brawny things that can be done in the automotive world! Here we have a video of two very cool supercars hooning about in an empty car park much to the glee of the luck bystanders! First up is the sublime Ferrari 458 Italia. The Ferrari's lightweight design and 4.5liter V8 produce 562bhp and an engine tone that will melt your ears and get your heart racing. The 458 will smash past 100km/h in just 3.4 seconds onto a top speed of 325 km/h.
[youtube]http://youtu.be/xUV6WFl8XIs[/youtube]
Next up is the Lamborghini Gallardo LP560-4. As the last digit of the cars name represents, this Gallardo features all-wheel-drove, something that you would expect to reduce the cars ability to get sideways and smokey! As you can see the 560 horsepower bull overcomes its tenacious grips and have no problem in performing a few pirouettes! Enjoy.