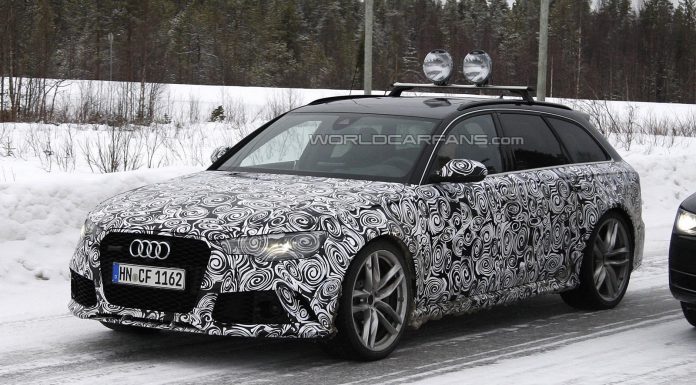 As part of ongoing testing for the facelifted Audi A6 range, a camouflaged Audi RS6 Avant was recently spied cold weather testing.
It is quite surprising that Audi is already testing a facelifted version of the RS6 Avant considering that the latest-generation, the C7 RS6, was only revealed at the Detroit Auto Show last year before hitting the market soon after.
Nevertheless, based on the full body camouflage of this prototype, it seems apparent that slight visual changes will be evident at the front end, sides and rear. Inside, we can also expect to see a few minor tweaks.
As for the engine, well that will most likely remain as is. However, that's certainly no bad thing. After all, at the heart of the current car is a twin-turbocharged 4.0-liter V8 TFSI engine delivering a total of 560 hp. This engine is similar to the S6 albeit with 140 hp more. This 560 hp is available between 5,700 and 6,700 rpm. A constant 700 Nm of torque are available between 1,750 and 5,500 rpm. Because the high-revving four-liter engine has been rigorously designed for low load-change and flow losses, it develops this power quickly and spontaneously.
It is likely that the base facelifted Audi A6s will debut this year sometime. A debut for the facelifted Audi RS6 Avant on the other hand, is likely to be pinned in for early 2015.
[Via World Car Fans]