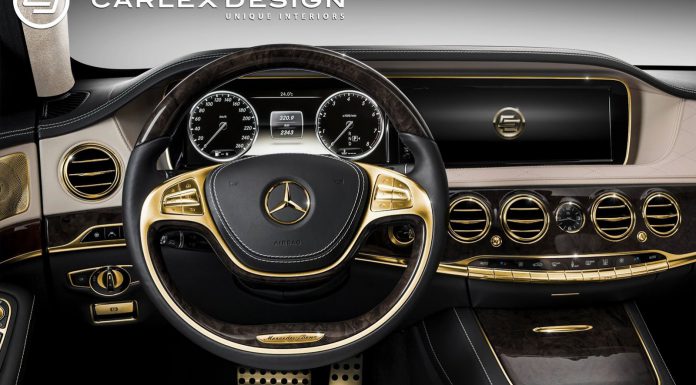 Aftermarket interior specialists Carlex Design have just teased their latest project. This time, Carlex have been upgrading the cabin of the 2014 Mercedes-Benz S63 AMG. As if you needed reminding, the 2014 S-Class already features one of the most luxurious interiors of any car ever produced, so you may be wondering how Carlex Design could make it feel even more expensive?
Well, by adding a host of gold trimmed parts of course! The 2014 Mercedes-Benz S63 AMG will feature a selection of 24k gold trimmed features across the dashboard including all the air vents, steering wheel buttons and Mercedes-Benz emblem, speaker covers, buttons and handles.
For the time being, Carlex Design has only released the following gallery looking at some of the new trim pieces. However, be sure to stay tuned to GTspirit to see the completed interior very soon!