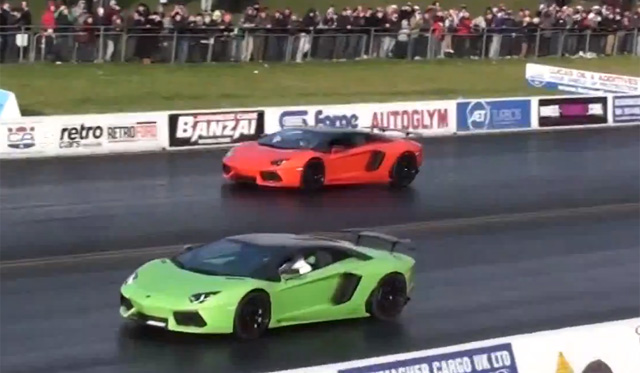 If you take your Lamborghini Aventador to Oakley Design and ask for one of their infamous Aventador tunes, you can be assured you won't be disappointed. The British tuning marque doesn't just offer visual upgrades for the Aventador, their LP760-4 package also increases power to 760 hp.
[youtube]http://www.youtube.com/watch?v=3bsv81wPBfY[/youtube]
At a recent drag racing event at Santa Pod Raceway in the U.K, two of just a handful of Oakley Design tuned Lamborghini Aventadors raced each other in a sprint well worth watching. Featured is the one-off LP670-4 Nasser Edition featuring a custom Verde Ithaca paint job with real gold flakes. This bright green Aventador by Oakley Design is then pitted against a stunning Arancio Argos example!
Lamborghini Aventador LP760-4 Nasser Edition by Oakley Design