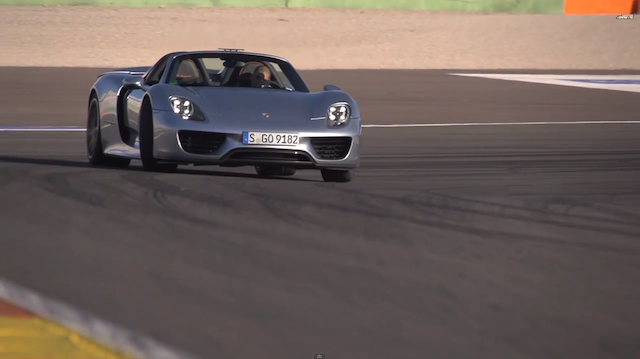 Chris Harris has got his hands on Porsche's latest flagship car, the Porsche 918 Spyder and he has done what he does best with it, go very sideways! The car sure has a lot to live up to, 2014 will be a big year for the car as Stuttgart's finest will go up against the McLaren P1 and Ferrari's La Ferrari!
[youtube]http://youtu.be/szyUN5GlQ7c[/youtube]
The Porsche 918 Spyder comes fitted with a mid-mounted 4.6-litre V8 engine producing 608 bhp independently – the highest specific power of any naturally aspirated Porsche engine. The V8 is then supplemented by a further two electric motors mounted on each axle. The electric motors can either drive the wheels independently or work together with the engine to boost performance. Each motor produces enough power to boost the total figure over 880 bhp. A seven-speed Porsche Doppelkupplung (PDK) controls power delivery to the rear wheels.
If you are a fan of the 918 Spyder, make sure you check out GTspirit's test of the German beast!