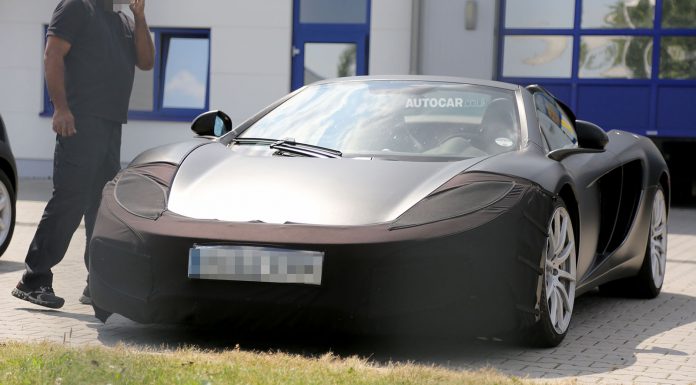 New information regarding the much talked-about McLaren P13 has been released suggesting that the car will wear a 120,000 pound sticker price when it goes on sale in the U.K. Arguably even more important than the price itself, are the selection of performance specifications of the McLaren P13 which have leaked.
First and foremost, the McLaren P13 will utilise the same 3.8-liter twin-turbocharged V8 engine which first debuted on the McLaren 12C and is also used on the McLaren P1. In McLaren 12C tune it delivers 616 hp while in P1 specification, the twin-turbo V8 delivers over 700 hp. However, the McLaren P13 will serve as the company's entry-level supercar meaning its engine will be detuned to around 450 hp.
Pinned as a rival to the potent Porsche 911 Turbo, the McLaren P13 will make up on its power deficit due to its lightweight construction. As it stands, the McLaren 12C tips the scales at 1,434 kg which is far less than the 1,600 kg of the Porsche 911 Turbo. However, the McLaren P13 will be even lighter than the 12C.
Just like the McLaren 12C, power from the P13's detuned 3.8-liter twin-turbo V8 will be sent to the rear wheels meaning it could be just shy of matching the all-wheel drive Porsche 911 Turbos 3.4 second sprint from 0-100 km/h.
Development of the base McLaren has been ongoing for over 2 years, meaning a debut is likely in late 2014 possibly at the IAA Frankfurt Motor Show 2014.
[Via AutoExpress]