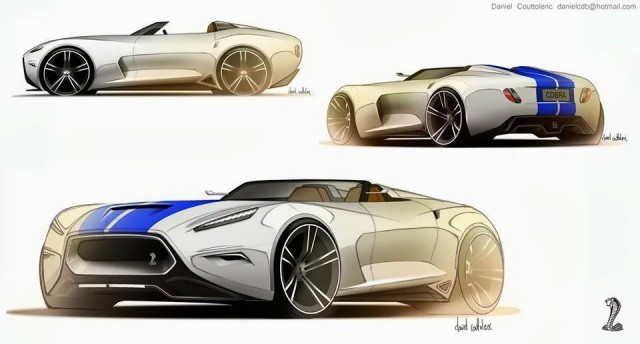 The AC Cobra, or the Shelby Cobra, may have been produced on and off since the 1960's, yet it still manages to turn heads all around the world. The MkIII Cobra produced from 1965-67 arguably has the most recognisable shape of any Cobra with its simple and wide design still looking great to this very day.
For all its recognisability, a modern-day Shelby Mustang has never been designed incorporating current design cues. Sure, a few Cobra's are out there sporting modern-day tech in the classic shells, but a truly modern Cobra is something missing from the automotive world and something which many would like to see come to fruition.
While that's unlikely to happen anytime soon, industrial design student Daniel Couttolenc has put together the following drawings and renderings of how the Cobra made for the 21st century could look. While the original Cobra was built by AC Cars in the U.K., it features American technology and was sold as the Ford/Shelby AC Cobra in the states. Consequently, this design concept incorporates Ford's current design language into a design reminiscent of the original Cobra.
With Ford's range-topping Ford GT supercar well and truly out-of-production and rivals General Motors and Chevrolet producing the Corvette and Chrysler manufacturing the SRT Viper, a new Ford supercar could bode well for the brand especially if it was based off a design like this!
Let us know your thoughts below!
[Via Daniel Couttolenc]