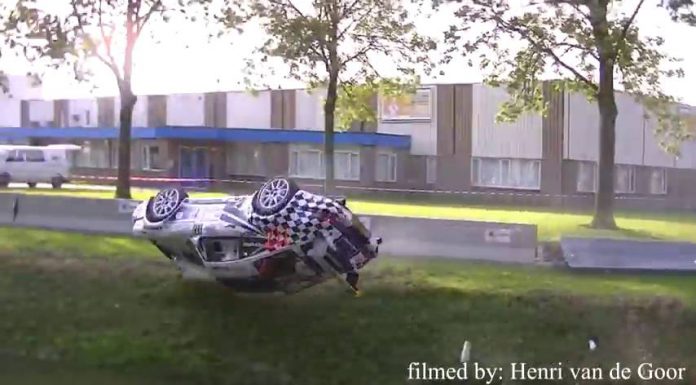 Street circuits are dangerous. Not being purpose built and designed with run of areas and gravel traps means that making the smallest of mistakes could prove fatal for not only car but driver. This video is a prime example of driver error, a lock up of the brakes, that results in one of the worst crashes we've ever seen at GTspirit!
[youtube]http://www.youtube.com/watch?v=hStcyDj830Q[/youtube]
This happened recently during the short rally trial Hellendoorn Rally. The Porsche 964 RSR being piloted by Harry Kleinjan locks under braking and starts to slip, smashing into the makeshift guardrail, which transforms into a launch rail. The car shoots over the fence, loses a pair of wheels, crashing and splashing into a near by river.
[youtube]http://www.youtube.com/watch?v=UsuhlAP8sMI[/youtube]
The Porsche 964 RSR is an old school Porsche in every sense of the word. It features an air-cooled engine 3.8 litre engine. Only 51 left the factory. Straight from the box, the 964 RSR was extremely competitive. It scored an outright win at Spa 24hrs, Interlagos 1000kms and class wins at Le Mans and 1000 kms of Suzuka. Try watching these clips without wincing!
[youtube]http://www.youtube.com/watch?v=K3-g31IEBD8[/youtube]