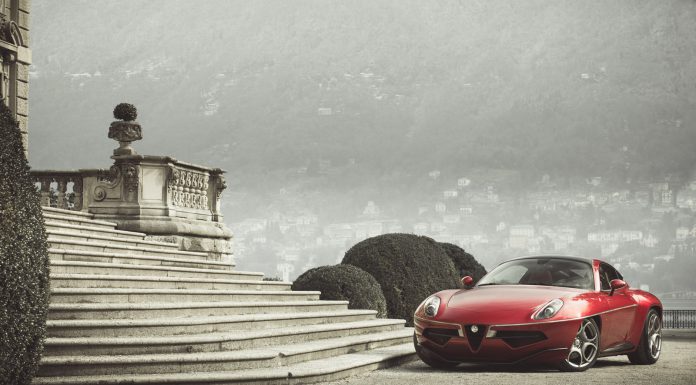 After first debuting at the Geneva Motor Show 2012, and then again at this year's Geneva show in near-production spec, it's finally been confirmed that the Touring Superleggera Disco Volante will hit the production line.
As you may or may not know, the Touring Superleggera Disco Volante is actually based on the stunning Alfa Romeo 8C Competizione. Consequently, don't mistake the Touring Superleggera Disco Volante for a ground-up, all-new supercar. What this means is that interested customers must first own a regular Alfa Romeo 8C Competizione before sending it to Touring Superleggera in Milan, Italy. From there, the transformation will take place over 6 months.
Clients can expect a similarly tuned front-engined V8 configuration as the 8C. Power output is reported at 450hp and 480 Nm of torque at 4750 rpm. Rather than a manual gearbox, Touring Superleggera have opted for an electroactuated 6-speed sequential shift box. 100km/h will come up in just over 4 seconds, with a top speed of 292km/h; numbers that are very similar to the 8C on whose chassis it is based. Exterior design has always been a strong point of the Disco Volante. Head of Design, Louis de Fabribeckers wanted to celebrate the "myth of the 1952 style icon." We're not quite sure what that means, but the end results speaks for itself. It is a seriously good looking car.