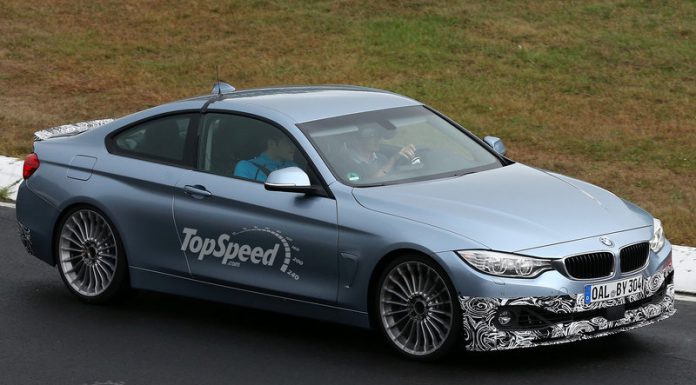 The 2014 Alpina B4 Coupe has been spied testing yet again ahead of the world-debut of the BMW M4 Coupe. While development of the Alpina B4 BiTurbo is only in its early stages, the car is expected to be launched at the Geneva Motor Show 2014 in March next year before hitting markets around the world later that year.
Under the hood, the Alpina B4 BiTurbo is expected to feature the same engine as the Alpina B3 BiTurbo. That means a twin-turbocharged straight-six cylinder engine delivering a total of 404hp and 443lb-ft of torque. The Alpina B3 BiTurbo also includes Alpina sports suspension and an 8-speed sport-automatic transmission with Alpina switch-tronic systems and these too are likely to be utilised on the upcoming Alpina B4 BiTurbo.
In Alpina B3 BiTurbo guise, that powertrain can send the car to 100km/h in just 4.2 seconds and a top speed of 305km/h, or 190mph. Thanks to the slightly lower overall weight of the Alpina B4 BiTurbo, it's expected to be just that extra bit faster.
Before the Alpina B4 BiTurbo is released, the range-topping Alpina B6 Gran Coupe will hit the market. The 2014 Alpina B6 Gran Coupe BiTurbo will feature a 4.4-liter twin-turbocharged V8 engine pumping out an impressive 532hp and an incredible 538lb-ft of torque. However, some reports suggest that the car could receive as much as 550hp. Either way, the Alpina B6 will be significantly more powerful than the regular BMW 650i it's based on which only delivers 450hp and 479lb-ft of torque.
[Via Top Speed]