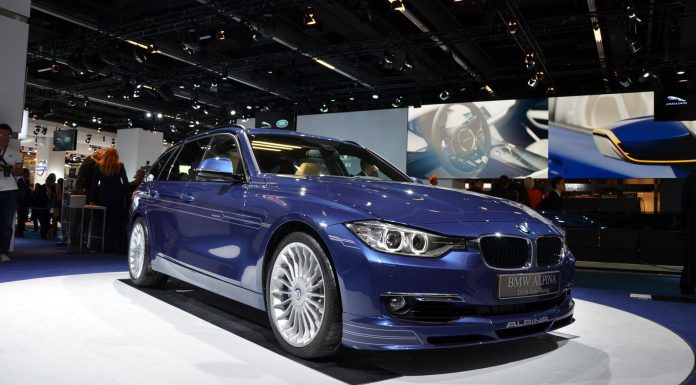 The 2014 Alpina D3 Bi-Turbo is currently being displayed at the IAA Frankfurt Motor Show 2013 on a fairly packed Alpina display. The D3 Bi-Turbo is based on a Touring bodied BMW 3-Series. It features typical Alpina styling lines down the side flank with aerodynamic, cosmetic and performance enhancements.
Under the bonnet sits a 3.0-liter six-cylinder diesel engine fitted with a new air intake, a larger intercooler, a new exhaust manifold and a stainless steel exhaust system. Power is rated to 350 bhp and 700 Nm of torque. 0-100 km/h happens in 4.6 seconds and top speed is 278 km/h (172 mph).
Elsewhere, the Alpina D3 Bi-Turbo gets sport-tuned suspension, a high-performance braking system with aluminum calipers, a new front spoiler and 19-inch alloy wheels to hide everything.