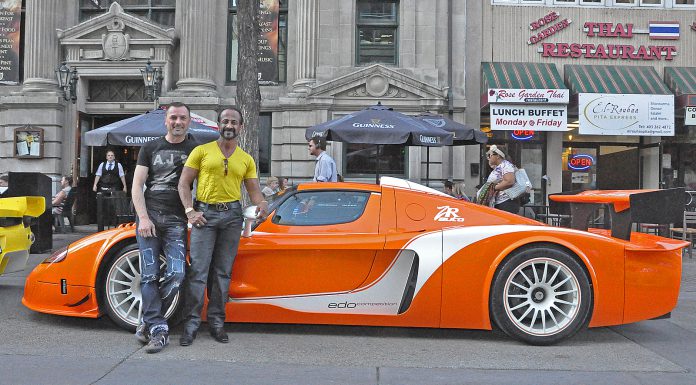 With the Vancouver Luxury Supercar Weekend fast approssaching, ZR Auto, in collaboration with Edo Competition, is gearing up to showcase some of their finest cars in what is Canada's equivalent of the Concours D'Elegance. Edo Karabegovic himself will be in attendance at the event, and just landed in Calgary to meet up with Zahir Rana before sending both the ZXX and MC12 Corsa to Vancouver.
In order to show Karabegovic some Canadian hospitality, Rana arranged for a special dinner at a classy restaurant on Calgary's very busy Stephen Avenue walk. ZR Auto brought along a group of about 15 cars to display to the public while the owners, along with Rana and Karabegovic, enjoy an evening of friends, camaraderie and supercars.
In addition to ZR Auto's impressive Ferrari ZXX and client's Maserati MC12 Corsa, a Lamborghini Aventador, Ferrari 458 Italia, Ferrari 360, Lotus Exige S, Porsche 911, Ferrari F430 and more lined Stephen Avenue. Hundereds of onlookers gawked at the multi-million dollar row of cars. Some didn't even understand what they were looking at. "Are these cars models or real cars?" one man asked. "Do these cars have actual owners?" asked another. But the numerous cameras and phones held in the hands of passers-by showed that they at least understood that the cars they were looking at are incredible feats of automotive engineering.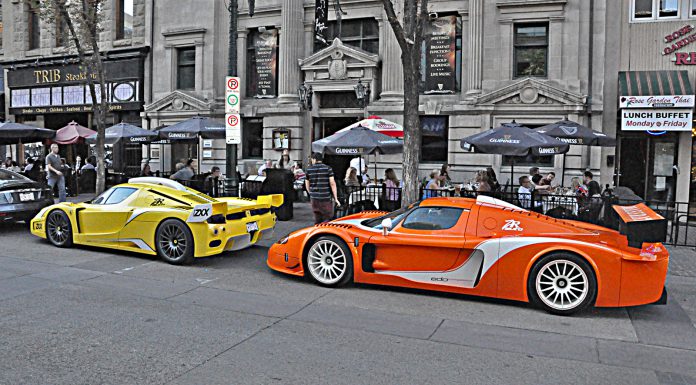 We got a chance to talk to Edo Karabegovic and ask him some questions about his passion for cars and the future of Edo Competition.
Firstly, it was a true honour to be in the presence of such an automotive legend – especially one that is so passionate about what he does. Karabegovic has been engaged in the world of supercars for so long that he explains his projects and interest in supercars with such precision.
Q & A with Edo Karabegovic:
Q: How did you get so immersed in the car world?
A: I worked at a Ferrari shop in Germany for three years, and then worked on race cars for another eight years. After that, it was obvious that I would start up my own company. I started working on race cars, sports cars and performance cars. But now I focus just on sports and super-sports cars. That's where my interest lies.
Q: What made you chose an automotive career?
A: I'm not good at public speaking, cutting hair, drawing, painting – I'm not really good at anything. But I do love cars! I can think up the craziest and fastest cars and build them. That's why I do what I do.
Q: Can you talk a bit about some of your bigger projects?
A: I have lots of experience with engines. Performance is what I really love. But what I really like to do is make a car completely different. That's why cars like Zahir's (ZXX) was so much fun to work on. We changed everything on that car. We made the body panels, build the engine, re-did the interior. The entire car has been changed. These two (MC12 Corsa and ZXX) are my babies. I was so sad to see them go. I haven't seen them for a few months and it's nice to see them again. I spent two years with these two (cars,) so they're very special to me.
Q: Which project has been your biggest?
A: Every new project is the biggest. They keep getting bigger and more exciting. Nobody has the same experience modifying cars as we do. We like to push things to the next level. So, we'll have some crazy projects in the future.
Q: What's your next big project?
A: A 991 Turbo – the first one in Germany. My goal is to make it the fastest Porsche in the world. Right now the car is speed-limited to 350km/h and that's not enough. I want more out of the car. We're taking it to Italy to the race track on October 10th to see what the car is capable of and then we're going to see what we can do with it. I just want to make it better.
Q: After that, what do you plan on working on?
A: I have a Porsche 918 coming – two actually. One is mine and the other is a client's. It's already crazy and loud, but we're going to make it better. We'll take it to the track in Leipzig (Germany) and put it to the test. My prediction is that the 918 is going to be the best supercar to buy over the next 10 years. It can go 130km/h on the battery alone, which is pretty impressive. I am excited to see what I will be able to do with the car, but it's going to be very wild. Actually, next March we're getting a LaFerrari. It doesn't have the best engine and the camshafts are bad. We can make the car much better, I have special camshafts that can boost the horsepower by 80-100hp. We want to make the LaFerrari have over 1,000hp. That will be really exciting.
Q: What sort of testing do you go through to make sure each car is ready?
A: We're always testing, re-making, re-testing. It's a process. We take our time with our cars because we want to do them right. We can't have anything go wrong. The biggest thing we have to do is make sure the car can be driven daily, not just every once-in-a-while. We do a lot of testing on the streets, we test our cars at the race track, at Nordschleife to see that it can drive at very high RPM's. We need to test the cars in hot and cold temperatures, in the rain. It's simple things like making sure the windshield wipers work in the rain at high speeds. Everything needs to work right before we give the car back to our clients.
Q: If you could sum up what you do, what would you say?
A: We don't build show cars, we build cars you can drive every day and go 0-60mph in 2 seconds. I do this every day and I know what I am doing. It's a lot of fun.
We thank Edo for the opportunity and to wrap it up check out a video of the cars lined up on Stephen Avenue in Downtown Calgary:
[youtube]http://youtube.com/watch?v=Wi7C0igzn7k[/youtube]