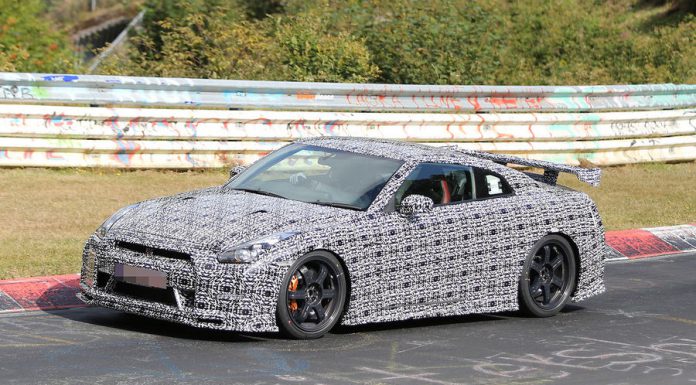 Just a day after the very first spyshots of the 2014 Nissan GT-R Nismo finally emerged, a prototype was recently spotted undergoing hard testing at the infamous Nurburgring.
While the camouflage is covering every inch of the bodywork, this Nissan GT-R Nismo prototype can be seen with new bumpers front and rear as well as a massive rear wing. Additionally, the prototype seems to be sporting the same lightweight alloy wheels as the 2014 Nissan GT-R Track Edition.
Additionally, the Nissan GT-R Nismo will receive a suspension upgrade as suggested by its lower ride height.
According to company insiders, Nissan is aiming to make the 2014 Nissan GT-R Nismo the world's fastest accelerating production car. Yep, that means faster to 100km/h than cars such as the Ariel Atom 500 and the Bugatti Veyron Super Sport. However, Nissan isn't just aiming to eclipse the current benchmark of 2.5 seconds, and instead wants to absolutely destroy it.
According to AutoExpress, the 2014 Nissan GT-R Nismo should hit 100km/h in just 2 seconds flat. Just how will such a time be achieved? Well, according to previous reports, the 2014 Nissan GT-R Nismo will develop in the region of 570hp, up from the 545hp of the 2013 Nissan GT-R. While those gains don't seem all that impressive, the 2014 Nissan GTR Nismo will also be significantly lighter and Nissan is expected to make some serious advancements to its launch control system.
Alongside that insane acceleration figure, expect the Nissan GT-R Nismo to be significantly faster around the 'Ring than the regular car. In fact, a sub-7 minute lap isn't beyond the realm of possibility!
[Via Auto Motor und Sport]