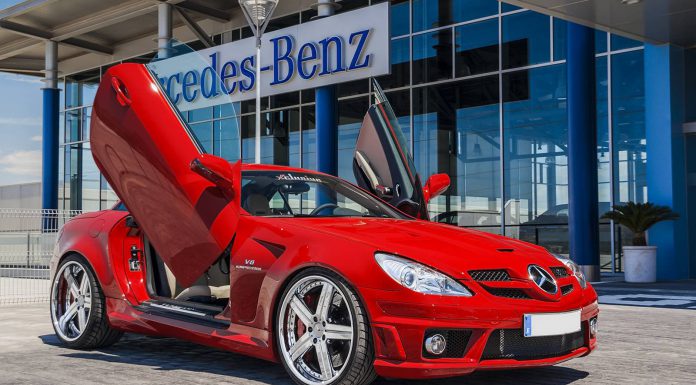 Straight from the factory, the Mercedes-Benz SLK55 AMG is quite an insane beast. Whenever you cram a massive eight-cylinder engine into a tiny car, the results are bound to be explosive and that's exactly what the SLK55 AMG is. After all, its potent 5.5-liter V8 engine would seemingly be better suited for a massive SUV, but despite that, AMG decided to wedge it into the tiny Mercedes-Benz SLK Roadster.
However, while such a feat is quite impressive, some are still not satisfied with the regular Mercedes-Benz SLK55 AMG as evidenced by this insane creation from Xclusive. While these images show that the Mercedes-Benz SLK55 AMG by Xclusive has received quite a few exterior modifications, the real action takes place under the hood.
This bright red Mercedes-Benz SLK55 AMG by Xclusive features an engine fettled and tuned by Kleemann to now deliver in excess of 600hp and 850Nm of torque. Consequently, the Mercedes-Benz SLK55 AMG by Xclusive can hit 100km/h in just 3.7 seconds, 200km/h in 10 seconds and is capable of a top speed in excess of 330km/h.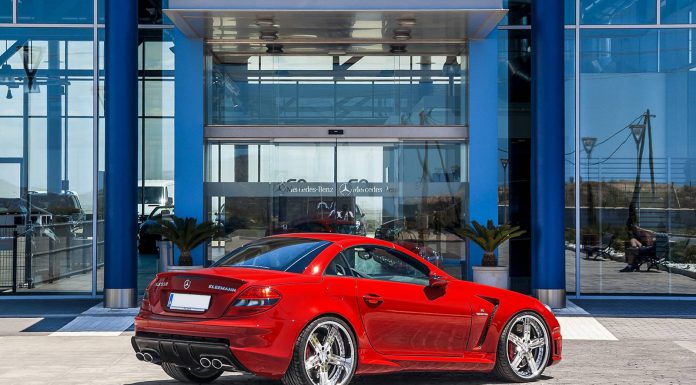 That extra power has been achieved thanks to Schrick camshafts, Kleemann manifolds and Metal catalytic converters as well as a few other tweaks. Additional performance upgrades include adjustable suspension, 8-piston front brakes measuring 390mm, 4-piston rear brakes measuring 360mm as well as fat 235/30/20 front tires and massive 305/25/20 rear tires.