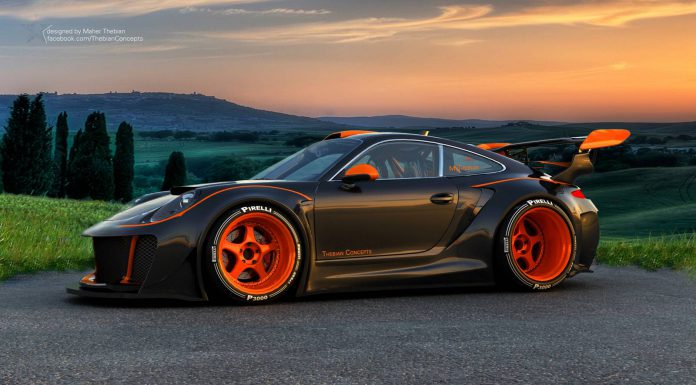 RWB (Rauh-Welt Begriff) is not new to any Porsche enthusiasts or to any vibrant tuning enthusiasts, these are the guys from Japan who in the oast 14 years have made given Porsches their own taste of style. RWB Porsches are common and easily noticeable, a styling cue that can be traced to most Japanese tuners including LB Performance.
Having said that, we know that most RWB Porsche are the ones from the classic era, 964 and if you are lucky to find a nearly modern one, you see a 993. Nevertheless, knowing Porsche's styling on the 911, if the kit can go on the 993 then it will certainly go perfect on the 997, in fact the 991 is still lucky! This has been shown through this latest render from Thebian Concepts a virtual tuner and designer.
Normally what you find on the RWB kits include items like a new front bumper and rear bumper, Side Rockers Pair, Front Wide Fenders Pair, Rear Wide Fenders Pair and GT-2 or 3.8 type wing. Indeed this render shows nothing short of the aforementioned items and we are certain that it would not disappoint if put into practice.