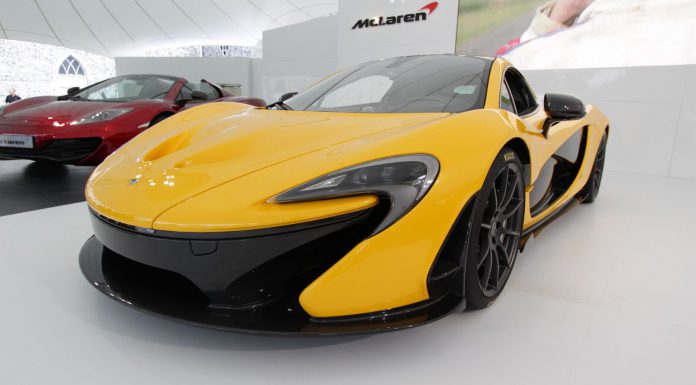 Goodwood Festival of Speed 2013 is a pretty special place to be right at the moment. Aside from the numerous debuts and birthday celebrations, we have the official dynamic debut of the McLaren P1! The dynamic debut bring the McLaren P1 within touching distance of the first customer delivery. As you would expect, attention is being lavished on the P1!
A number of tech features make the McLaren P1 a very fast car. Cutting straight to the figures, the McLaren P1 will travel from zero to 100km/h in less than 3 seconds, zero to 200km/h in under 7 seconds, and zero to 300km/h in no more than 17 seconds. This is thanks, in part to the Instant Power Assist System (IPAS) which is essentially KERS, for road cars. Putting the 300km/h statistic into perspective, this is 11 seconds faster than the legendary McLaren F1 road car. Top speed is electronically limited to 350km/h.
The McLaren P1 will use a mid-mounted 3.8-litre twin-turbo V8 petrol engine fitted with two turbochargers and an electric motor. Together, this produces 916ps (903bhp) and a maximum torque figure of 900Nm. The petrol engine alone produces 737ps (727bhp) at 7,500rpm, and 720Nm of torque from 4,000rpm with the electric motor supplementing 179ps (176bhp) and 260Nm of torque. The power is channelled through the dual-clutch seven-speed gearbox to drive the rear wheels.
Only 375 McLaren P1′s will ever hit the roads each with a price tag for £866,000. For this, owners will get a car ready for both the race track and the road. The P1 comes standard with a comprehensive specification list so the only options customers will be able to spec are through McLaren Special Operations, and for fitted luggage.
The McLaren P1 is shaping up to be a very special car indeed. It has stiff competition from the likes of Porsche with their Porsche 918 Spyder, Ferrari with the commically named La Ferrari and from the likes of bespoke manufacturers such as Pagani and Koenigsegg. Which one would you choose?