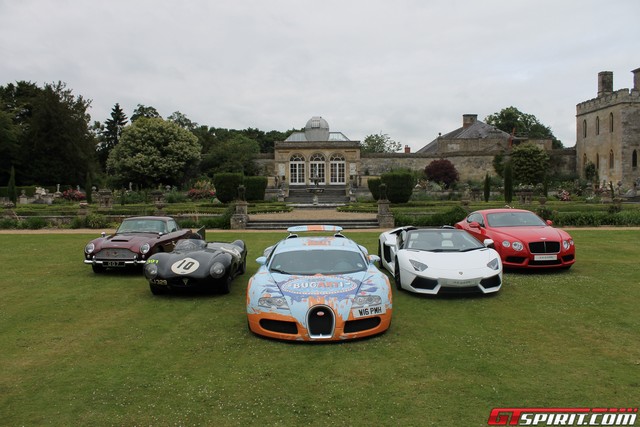 Yesterday we went down to Wilton House for the press event for next months Wilton Classic and Supercar (WCS). Heading into it's fifth year, the WCS event is getting bigger and bigger. On display today we had a variety of cars from Lord Pembroke's private collection, a couple of new arrivals from H.R. Owen and a handful of carefully selected guests, each showing the diversity of what to expect at WCS 2013.
Lord Pembroke showcased his BugARTi Veyron, #26 Preston Henn Porsche 956, De Tomaso Pantera, Jaguar E-Type and Jaguar D-Type he recently raced at Le Mans in the Classic Le Mans support race. H.R. Owen are one of this years main sponsors, and to celebrate they brought along a Bentley Continental GT V8, Ferrari F12 Berlinetta and a Lamborghini Aventador Roadster. Rounding off the display was a 1964 Jaguar Mk2, 1979 Ferrari 308 GTB, Formula Renault Tatuus RC98 and an Aston Martin DB5 that was used to promote the latest James Bond film Skyfall.
At this years WCS there will be a parade of more than 150 Supercars, from Bugatti, Pagani, Ferrari, Lamborghini and Aston Martin to name a few. McLaren and Jaguar will also have their own area's at the show, showcasing their latest models to the public. Out the front of the house will be a small display that will include a 1964 Facel Vega II, Jaguar E Type 9600 HP and a 1979 RHD series 1 "Periscopico" Lamborghini Countach. As well as all the Classic and Supercar content, there will be the Bold Dog stunt bike team, an acrobatic display by the crew from RNAS Yeovilton, steam engines and a lot more displayed around the grounds, whilst Premium ticket holders can check out the world famous art collection and Palladian interiors.
So be sure to come and join us in checking it out on Sunday 4 August 2013!