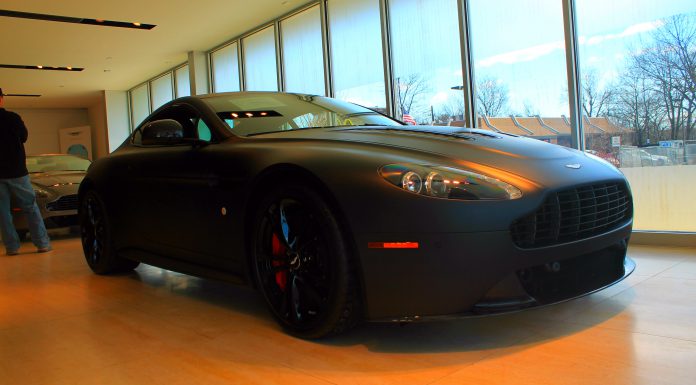 The venerable styling of current model Aston's has been, well, spectacular to say the least. It isn't often that a car company can create a range of models that require little no modification to appear almost perfect.
However, as with all cars, some will disagree with that sentiment and modify the car to better suit their tastes. And the 2012 Aston Martin V12 Vantage, for sale at Miller Motorcars in Greenwich, Connecticut is the case in point here. The previous owner, obviously not happy with any of the factory color options offered by the British supercar maker, fitted a custom matte black carbon wrap to the exterior. Now, there is a bit of confusion to be had here. As you are well aware, Aston did release a custom Carbon Black Edition Vantage in 2012, but judging from the seat stitching and seats themselves, this doesn't appear to be one (please correct us if we are wrong!).
The car, for sale at a cool $212,660 is one of the only V12 Vantage's we know of to be fitted with a satin black finish; a polarizing choice for sure. For more information, check out MillerMotorcars here. Thanks to Rivitography for the images.