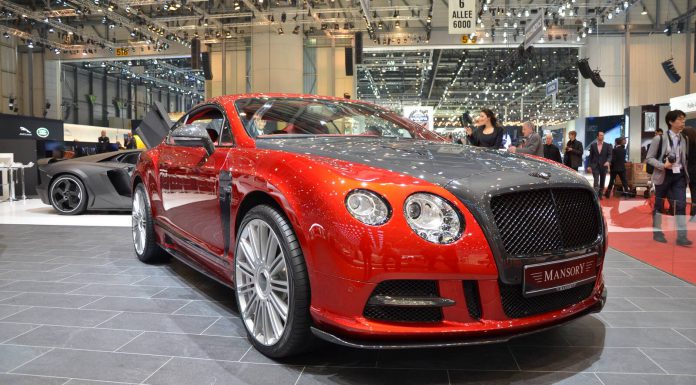 Mansory displayed the Bentley Continental GT-based Mansory Sanguis at the Geneva Motor Show 2013. The Mansory Sanguis is a carbon fibre trimmed Bentley Continental GT, featuring new body panels, a new interior and a set of performance upgrades! We sent a photographer for a closer look.
The new bodykit fitted to the Mansory Sanguis features a newly designed front apron, with proprietary daytime driving lights, a carbon-fibre bonnet, carbon-fibre front wings and a newly designed side sill set which widens the Coupé by 50 millimetres at the front axle and 60 millimetres at the rear axle. The rear also benefits from a redesign and a new diffuser.
Mansory fit a new exhaust system, air filter and ECU kit which helps boost power to 672hp at 6,000rpm. Torque is also raised to 780Nm at 1,700rpm. The W12 engine reduces the zero to 100km/h time to just 4.5 seconds. Top speed is increased to 322km/h.

Mansory offers a special wheel-tyre combination in an exclusive design for the Mansory Sanguis. They measure 10 x 22 inches and feature 10 double spokes. Mansory recommends Vredestein Ultrac Vorti tyres sized 295/25/22. The interior can be tailored to any taste.