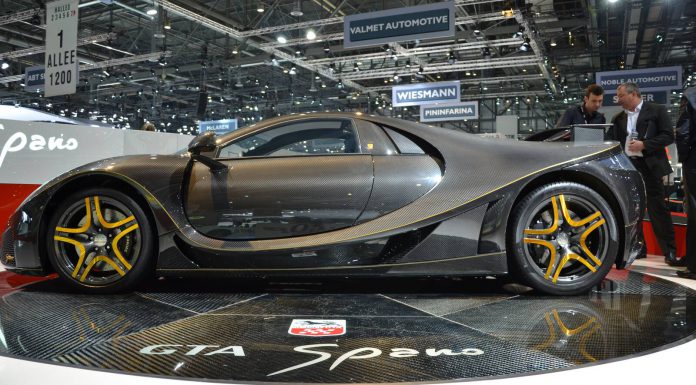 Spanish supercar manufacturer GTA Spano bought their latest version of the GTA Spano supercar to the Geneva Motor Show 2013. The full carbon fibre GTA Spano is easily the best looking version to date. We sent a photographer to capture it, and the yellow version that sits next to it!
The GTA Spano on display at Geneva this year is a finished production ready vehicle. It will be the first delivered to a customer in the near future, we have to assume that this particular owner will be very proud of his car indeed. The GTA Spano features a complete carbon fibre body with gold accents on both the bodywork and the wheels.
The GTA Spano features a glass roof and a chassis constructed from a carbon fibre, titanium and Kevlar mix. It features an 8.4 litre V10 engine rated at 900hp equipped with an automatic sequential 7-speed gear box with either a manual or automatic mode. Exclusivity is guaranteed with just 99 scheduled for production.