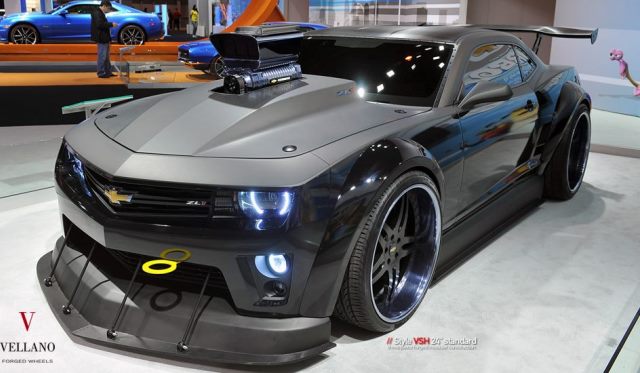 One of the cars that gathered crowds at the Chicago Auto Show this year was a Chevrolet Camaro with 700bhp and set to feature in the upcoming Dreamworks movie called Turbo, a movie about a snail that is in love with speed, you can now imagine how this V8 modified Camaro coupe will make a snail into a high-speed racer.
General Motors said that the "turbo" Camaro is fully done with lower rockers and fender flares in a wide body design configuration. It features a front splitter and rear diffuser, and a GT concept rear wing spoiler. You shall notice the lighting is from custom front and rear LED lighting with multicolor halo effect for the front headlamps. Halo kits are famous with Camaro owners especially the fifth generation.
The Camaro features custom built intake assembly for supercharger housing while the rear exhaust outlets are five-inches in diameter, with two outlets on each side.
As for the exterior paint work, the Camaro features a vinyl chrome wrap, dark tinted to look like black chrome. It was then fitted with Vellano Wheels VSH finished in a corresponding nature to match its theme, the front tires are 24-inches by 10-inches with a front wheel and custom offset while the rear are 24-inches by 15-inches.
Here is the film's trailer showing a little bit of the action.